The Roethke Family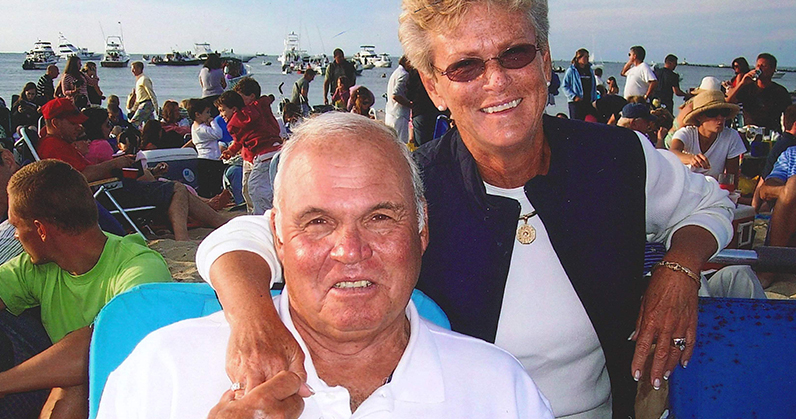 Many families have their summer traditions on Nantucket. For the Roethkes, it's coming together with family and friends at Jetties Beach for the Boston Pops on Nantucket concert.
Eleanor and Steve Roethke Sr. have been attending the event since 1997, and make a point to bring their blankets, beach chairs and food while staking out a spot among the general admission crowd on the beach.
"It's much more fun being part of this big, packed-in and congested group on the beach," Eleanor said.
What began with just Eleanor and her husband on a date at one of the very first Boston Pops on Nantucket concerts has evolved into an annual gathering of the Roethke family, relatives and friends which numbers as many as 25 people. That includes Eleanor and Steve's son, island architect Steve Roethke, his wife Jill, and their two boys. Not to mention a close group of friends the Roethkes have made at Pops concerts over the years.
The Roethkes have even devised a strategy to claim a section of the beach as close to the stage as possible.
"We have a member of our group who goes down when the gate opens to set out some blankets, so we stake out our territory," Eleanor says with a laugh. "The overall atmosphere of the whole thing, it's so festive and jovial, and everyone is so friendly. We wouldn't miss it."
That atmosphere fostered one of the Roethkes lasting a friendship that endures to this day. It was back in 1998, during one of the very first Boston Pops on Nantucket concerts, when Eleanor and Steve heard everyone around them on the beach raving about some homemade cookies that were being passed around. They spotted a woman walking through the crowd with a Tupperware container full of them.
"This stranger came right over and offered us a cookie," Eleanor said.
It was Nantucket resident Peggi Godwin, "and we've been friends ever since. Chances are we never would have met, but we met at the Pops. I've always called her 'the cookie lady'."
Today, the Roethke's group for the Pops includes the Godwins, Dottie and Lou Gennaro, and Diane and Eloy Nava, in addition to the friends and family members from off-island who vie with each other each year for a coveted stay in the Roethke's home during the weekend of the event.
Eleanor can easily recall some of her favorite Pops performances and special musical guests over the years, but what brought her to tears recently was the memory of a scene from last year's concert before the music began: NCH President and CEO Dr. Margot Hartmann greeting every Pops attendee with a smile and a handshake at the gate.
"We're so lucky that we can have something of this magnitude," she said. "The Pops themselves coming to us here on Nantucket, not to say anything of what it does for the hospital. The 1812 Overture with the fireworks, it's just wonderful, it really is."