The 2015 Partners In Excellence Awards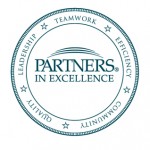 Nantucket Cottage Hospital honored the recipients of the annual Partners in Excellence awards, which recognize superlative performance throughout the Partners HealthCare system, during a ceremony Tuesday afternoon in the Founders Building.
This year's individual award winners were Annette Adams, the NCH day charge nurse, and Kim Patten, the nurse manager for the NCH medical-surgical department. The team award went to Sports Medicine & Physical Therapy Associates of NCH, including: Kelly Facteau, manager, Pedro Amaral, Janice Dougherty, Jameson Heise, Julia Heise, Elizabeth Larrabee, Jaimee Lavin, Taneisha Lewis, Karin MacLellan, Olga, Malahova, Louis Sager.
The awards were presented Tuesday by NCH President and CEO Dr. Margot Hartmann, and NCH Trustee Stephen C. Anderson.
Individuals and teams may be nominated for an award in the following categories:
• Quality treatment and service
• Leadership and innovation
• Teamwork
• Operational efficiency
• Outstanding community contributions
• Sustainability
Read their full nominations from co-workers below:
Annette Adams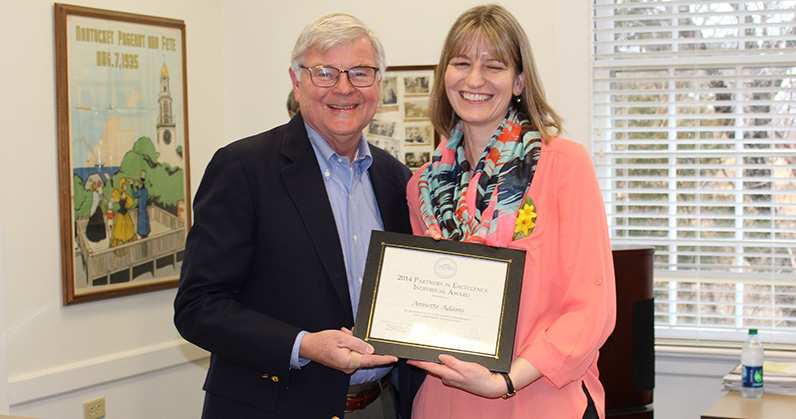 "Annette has been the Day Charge nurse for 3 years and we would be absolutely lost without her. She is a phenomenal nurse, caring, so dedicated to this facility, compassionate, intelligent and such a team player. Annette came to us as a travel nurse 5 years ago and lucky for us, she decided to stay! She works so well with everyone, from all departments. She is always willing and able to go way above and beyond the call of duty, without hesitation. She is very much relied on for her expertise and years of experience. She has such a calming way about her which helps to create a really pleasant working atmosphere. Annette is truly one of a kind and we are so lucky to have her as our charge nurse."
Kim Patten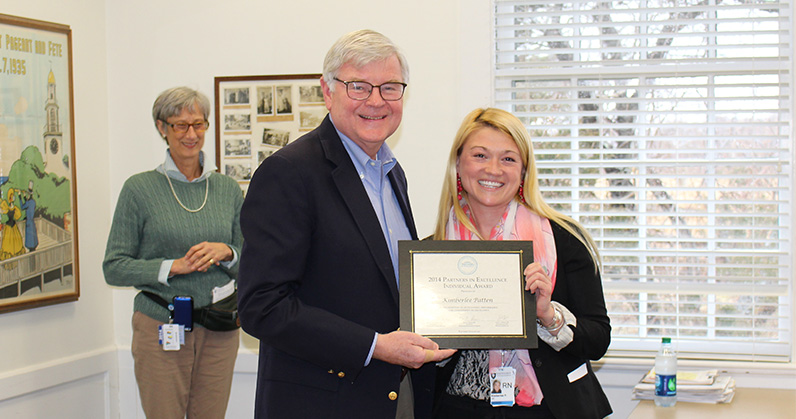 "Kim works is the Nurse Manager for the Medical-Surgical Department at NCH, but repeatedly exceeds those expectations and will float to the Emergency Department when the department is busy. She is willing and eager to offer a helping hand and jump in during a critical or chaotic situation. She will simply ask, "How can I help?", and will assume this responsibility with stride, whether it be communicate with a patient's family member, administer meds, or do something as simple as empty a patient's urinal. No task is too great a burden nor too trivial for her assistance, and both her skill and easygoing personality shine in our department. Just recently, Kim presented to the ED to help care for a critical patient and facilitate patient transfer off the island. Despite wearing professional attire, she quickly donned scrubs and was at the bedside, helping place lines and assist with intubation. Kim truly epitomizes the definition of teamwork here at Nantucket Cottage Hospital, and it is for this reason that I would like to nominate her for a Partners in Excellence Award."
Sports Medicine & Physical Therapy Associates of NCH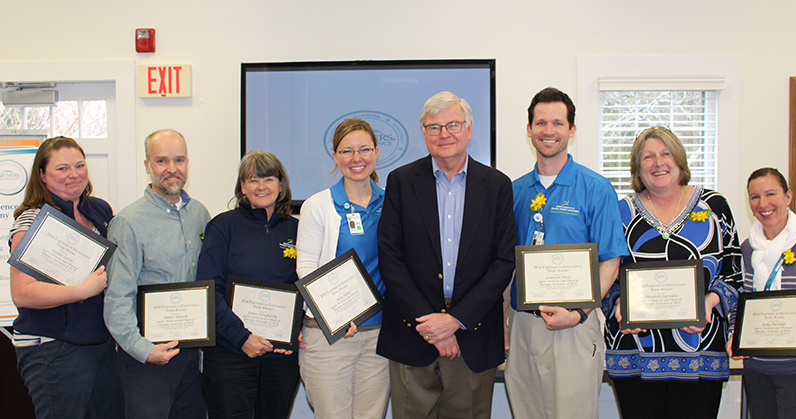 "Under the direction of Kelly Facteau, the department moved to a satellite clinic at 6 Bayberry court. In the process of planning and moving the entire department came up with strategy to only close for one day to relocate. A testament to that teamwork is they were up and running and accommodated 60 patients the day after the move.
Our team in and out of the workplace is supportive of each other no matter what the task. We make sure that all patients get the proper treatments and the benefit of joint treatments if needed, showing how we work together for the patients well being. We plan team meetings to discuss different patient cases to make sure that the patient is getting best treatment possible. We as a team also assist to teach each other techniques that others may not have full skill level. We have improved our communication between office staff and therapist to make sure that the process for the patient is as easy as possible.
I am constantly impressed with this department and their resiliance and especially their manager – Kelly Facteau. As they waited patiently for a new space so they could deliver care in a more patient friendly atmosphere, they all kept positive attitudes and maintained professionalism and put the patient first. There is a tremendous feeling that they radiate of really being a team of truly caring about each other and working for the best good. When it is was time for them to move they all pitched in and worked hard to make the dream a reality.
It's a great team."