Thanksgiving Operating Hours at NCH
Please be aware of our modified hours of operation for select services at Nantucket Cottage Hospital.
Our walk-in Emergency Department will remain open, 24 hours a day, 7 days a week, throughout the Holiday season, anyone requiring emergency care will still be able to access services by calling 911, or by coming into our Emergency Department at 57 Prospect Street.
Our COVID-19 testing clinic at the Anderson Building will have limited hours of operation on select Holidays, please refer to the chart below for specific information regarding opening and closing times during each Holiday.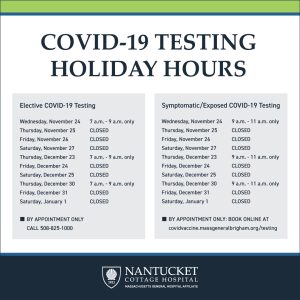 Additionally, both the Cottage Pharmacy and Physician Practices will be closed on November 25th, 2021, December 25th, 2021, and January 1st, 2022.