"Stop the Spread" Asymptomatic COVID-19 Testing Moving to VFW, Extended Through March 31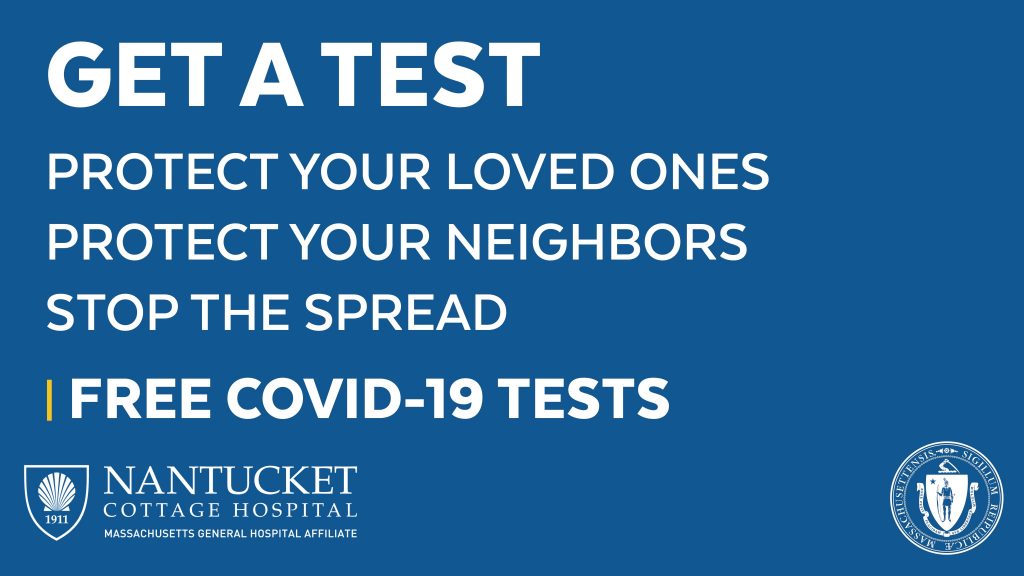 Free COVID-19 testing for asymptomatic individuals through the state's "Stop the Spread" strategic testing program has been extended on Nantucket through March 31, and the testing site location will move next week from Nantucket Cottage Hospital to the Nantucket Veterans of Foreign Wars (VFW) facility off New South Road.
The Stop the Spread program supports the testing of asymptomatic individuals to stop the spread of COVID-19 by providing low barrier, free, and easy-to-access testing for those with no symptoms. No appointment is necessary, and tests are provided on a first-come, first-served basis during hours of operation.
On Monday, Dec. 21, the location for Stop the Spread asymptomatic testing will move to the VFW building at 22 New South Road, which is accessed via Milestone Road. Testing will be done inside the facility with appropriate physical distancing, so individuals should park their vehicle and walk into the main entrance of the VFW where they will receive a number and instructions from staff. Up to 75 free asymptomatic tests will be provided per day.
Testing for those with symptoms and anyone exposed to someone with an active case of COVID-19 will continue at the Nantucket Cottage Hospital drive-through at 57 Prospect Street.
Stop the Spread Asymptomatic COVID-19 Testing at the VFW, 22 New South Road
Eligibility:
Open to all asymptomatic individuals seeking COVID-19 testing
Testing is not restricted to residents of the cities and towns where sites are located
You don't need to have any symptom(s)
No cost to you
You will not be tested here if you have symptoms or have been in close contact* with a person who has tested positive for COVID-19. Anyone with symptoms or exposure must go to the Nantucket Cottage Hospital drive-through evaluation site at 57 Prospect Street for your COVID-19 test.
No pre-procedure/pre-op testing will be performed at this site.
Requirements for Asymptomatic COVID-19 Testing
You must be registered with Mass General Brigham before you can be tested for COVID-19 today. To register, call 866-211-6588. If you have received care at Nantucket Cottage Hospital in the past you are already registered, however, it is a good idea to confirm and update your information by calling the number above. Hours of operation to call and register: 7:30 a.m. – 6 p.m. Mon-Thurs; and 7:30 a.m. – 5 p.m. on Fridays.
You must sign-up for the Patient Gateway. To receive your testing results, you must be signed-up for the Mass General Brigham Patient Gateway. To sign up, click the link sent to your personal email address after registering with Mass General Brigham or download the Mass General Brigham Patient Gateway APP at the Apple App Store or Google Play.
A mask is required at all times while inside and outside the building. It may only be removed when having the test administered.
You cannot be retested within 14 days of a positive COVID test result.
Stop the Spread Asymptomatic Testing Hours
Monday – Saturday: 8 a.m. to 10 a.m. (line opens at 7 a.m.)
Sundays: CLOSED
Location: Nantucket VFW, 22 New South Road
* A close contact is defined as someone who was within 6 feet of an infected person for a cumulative total of 15 minutes or more over a 24-hour period starting from 2 days before illness onset (or, for asymptomatic patients, 2 days prior to test specimen collection) until the time the patient is isolated. Individual exposures added together over a 24-hour period (e.g. three 5-minute exposures for a total of 15 minutes) qualify as close contact.