Statement from Gary A. Shaw, President and CEO of Nantucket Cottage Hospital – March 31, 2021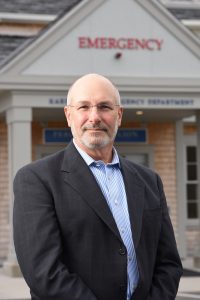 (March 31, 2021) Good morning, I am writing to build awareness of announcements Roberto Santamaria and I have made in the last few days on radio, TV, and in print to alert Nantucketers to the presence of the B117 Covid 19 variant on the Island and a corresponding surg in cases we are seeing at the Cottage Hospital. As I look out a second floor NCH window at our symptomatic drive through testing station I see a return of vehicles that only a month ago had dwindled to nothing. Correspondingly, we are also seeing a sharp rise at our asymptomatic "VFW "Stop the Spread" testing station. Just yesterday we reported 20 new Covid 19 cases, today we reported 8, and our 7 day positivity rate is now 9.5% and climbing. As a community we should all be very concerned. Yet again, our country and our Island, stand in the crosshairs of another wave of Covid 19. I am truly saddened and very concerned.
Today I am not writing to point out the obvious or make points regarding why we are once again facing this scourge. We all know why this is happening, we all know this is a completely preventable situation, we all know the simple measures that need to be vigorously continued until we vaccinate the majority of our Nation.
As an American I grew up with the principles of working hard, helping each other, sharing, giving back to my community, caring about others welfare. More simply stated, as a community it is now time to lean very very very hard into beating COVID once again. To do so my ask is that we recommit to known interventions. They are:
As an individual: Wearing masks properly, social distancing, hand washing, quarantining as recommended, adhering to post-test guidance and if contacted cooperate with contact tracers to the fullest.
As a business: To ensure that you do not put your business at risk we highly recommend that you require staff that have travelled off island or are newly arrived from elsewhere to quarantine in isolation for 72 hours. Then, if they do not have symptoms, and before allowing work, have them get tested at the stop-the-spread test site. This is particularly important for employees who will be living in densely populated employee housing. Make sure that your staff adhere to all COVID guidelines including masks on jobsites and in shared vehicles.
Working together on Nantucket Hope and Optimism for a great season is real!
Best, Gary
Gary A. Shaw, President and CEO