Sign the final steel beam!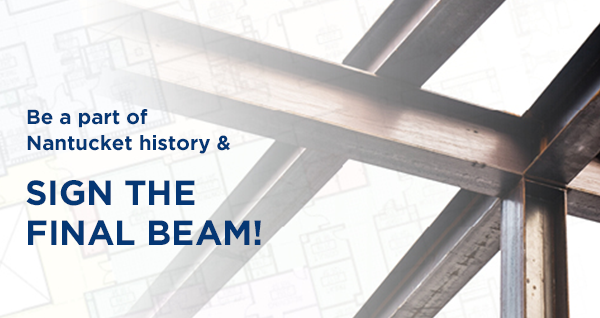 Leave your signature on a piece of steel that will be part of Nantucket's new hospital! The steel beam will be placed on the ground outside the entrance of the existing Nantucket Cottage Hospital building beginning on Wednesday, October 4th at 9:00 a.m. through Friday, October 6th at 8:00 a.m. Staff, patients, trustees, donors, and members of the island community are welcome to sign the beam at their convenience during that time.
On Friday, October 6th at 9:00 a.m., staff, trustees and all donors are welcome to join us in the Founders Building parking lot for a "Topping-Off Ceremony" to watch the construction crews place the beam on the new hospital during this exciting construction tradition.
For questions, please contact the Nantucket Cottage Hospital Foundation at (508) 825-8250. Thanks to the entire Nantucket community for supporting the island's new hospital!