She's Our President and Our Patient!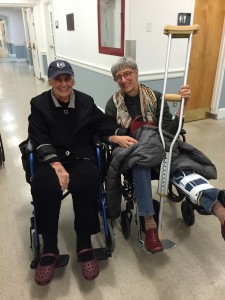 Best wishes to our very own Dr. Margot Hartmann who will be having knee surgery here at Nantucket Cottage Hospital this morning to repair a patellar (kneecap) fracture. Dr. Hartmann's surgery will be performed by the hospital's orthopedic surgeon, Dr. Rocco Monto.
Dr. Hartmann, President & CEO of Nantucket Cottage Hospital, is pictured here on the right with her mother.
Did you know Nantucket Cottage Hospital performs over 800 surgical and other procedures in our operating room every year year? Learn more here