Public Health Advisory: Rise in U.S. Measles Cases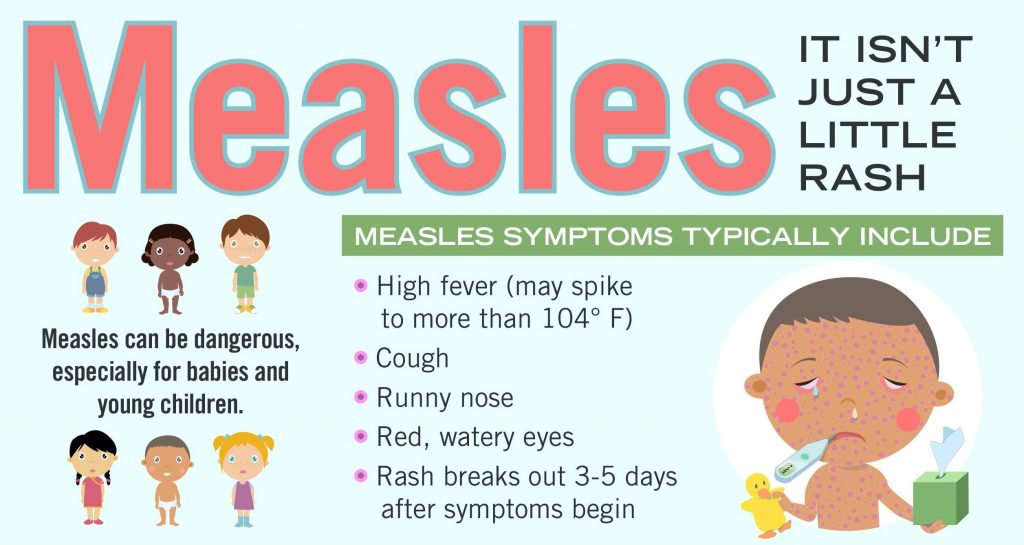 Nantucket Cottage Hospital would like to advise the island community about the rising number of measles cases in the U.S. this year, as well as the facts about the safe and effective vaccine for this highly contagious viral disease.
In 2019, the CDC has already reported 626 individual cases of measles that have been confirmed in 20 states. This is the second-greatest number of cases reported in the U.S. since measles was eliminated in 2000. Most cases have occurred in unvaccinated individuals.
The Massachusetts Department of Public Health (DPH) recently confirmed that a person was diagnosed with measles in greater Boston on Sunday, March 31, 2019. During the infectious period, the individual went to several locations in Eastern Massachusetts, including Hyannis, where other people may have been exposed. The specific locations and the times when the individual visited these locations can be found on the Massachusetts DPH website.
While there have been no confirmed cases on Nantucket, the island community should be aware of this risk and residents should get vaccinated if they have not done so already.
What is measles?
Measles is a highly contagious viral illness that presents with fever, cough, coryza, conjunctivitis, and rash. It has the potential for causing serious morbidity or death and is greatly underestimated despite the availability of a safe and effective vaccine. While most outbreaks are attributable to travelers and visiting residents from foreign countries, each imported case can trigger large local outbreaks amongst people who have not traveled. The virus is spread via the airborne route and thus unvaccinated and undervaccinated people in the same airspace as infected patients are at very high risk for infection. The measles virus can live for up to two hours in an airspace where the infected person coughed or sneezed. If other people breathe the contaminated air or touch the infected surface, then touch their eyes, noses, or mouths, they can become infected.
Those who were exposed and begin to develop symptoms of measles should call their healthcare provider before visiting an office, clinic, or emergency department.Initial symptoms, which usually appear 10–12 days after infection, include high fever, a runny nose, bloodshot eyes, and tiny white spots on the inside of the mouth. Several days later, a rash develops, starting on the face and upper neck and gradually spreading downwards. The infection is particularly serious in children under the age of five, pregnant women or immunocompromised persons.
Vaccination – the best way to prevent measles

Measles can be prevented with MMR vaccine. The vaccine protects against three diseases: measles, mumps, and rubella. CDC recommends children get two doses of MMR vaccine, starting with the first dose at 12 through 15 months of age, and the second dose at 4 through 6 years of age. Teens and adults should also be up to date on their MMR vaccination.
The MMR vaccine is very safe and effective. Two doses of MMR vaccine are about 97% effective at preventing measles; one dose is about 93% effective.
Children may also get MMRV vaccine, which protects against measles, mumps, rubella, and varicella (chickenpox). This vaccine is only licensed for use in children who are 12 months through 12 years of age.
Before the measles vaccination program started in 1963, an estimated 3 to 4 million people got measles each year in the United States. Of these, approximately 500,000 cases were reported each year to CDC; of these, 400 to 500 died, 48,000 were hospitalized, and 1,000 developed encephalitis (brain swelling) from measles. Since then, widespread use of measles vaccine has led to a greater than 99% reduction in measles cases compared with the pre-vaccine era.
Everyone born before 1957 is presumed to be immune to measles because of prior exposure or infection, but patients born after 1957 who have not been immunized (or whose measles immunization status is uncertain) should receive at least one dose of MMR vaccine.
Thank you for doing your part to keep your family and our community safe from this vaccine preventable disease.
Dr. Diane Pearl
Chair, Nantucket Cottage Hospital Infection Control Committee