Our Patients – Nancy Serafini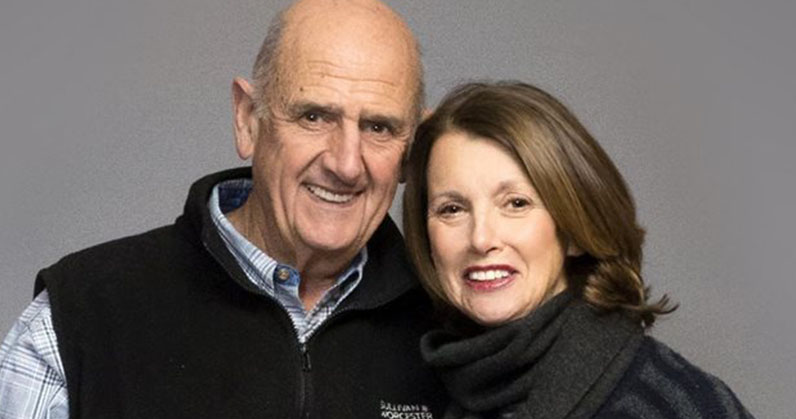 Nancy Serafini was enjoying beautiful autumn day on Nantucket with a ride on the Madaket bike path in late September when she rounded a corner too quickly and fell off her bicycle.
"I picked myself up and looked down in horror at the back of my left calf," she recalled.
The fall had left Serafini with a deep laceration on her leg. Within 20 minutes, she arrived at Nantucket Cottage Hospital's Emergency Department seeking immediate care for her wound.
"I was immediately seen by an intake nurse and was quickly taken to a private room in the ER and the kindest, gentlest doctor (Glen J. Sickorez, MD) introduced himself by his first name," Serafini said. "He assured me at once that I had not severed my Achilles tendon as I feared. He was extremely honest in his assessment of my leg and kept us informed every step of the way while he cleaned and sutured the wound."
Dr. Sickorez informed Serafini that she was in for a long recovery, and he outlined a recovery plan that included several X-rays and a stint on crutches.
Serafini was sent to the NCH Imaging Services Department where "I met (radiologic technologist) Tanya (Van Treek) who without a doubt in my mind was the kindest, most caring and capable radiological technician I have ever encountered. She was fast, efficient and above all, so careful not to inflict any more pain that I was already suffering from."
Serafini, an interior designer who splits her time between Nantucket and Boston, said her experience at Nantucket Cottage Hospital's Emergency Department was memorable, and gave her confidence to continue living and working on the island.
"My wounds will heal but I will never forget the kindness of strangers who assured my eventual return to health," she said. "The nurses were terrific and provided me with a divine pair of surgical scrubs for the ride home. My true compliments to the superb staff at Nantucket Cottage Hospital with my whole family's gratitude and relief."
The Nantucket Cottage Hospital Emergency Department is open 24 hours per day, seven days per week, and treats more than 11,000 patients annually.