New Palliative Care Director Joins NCH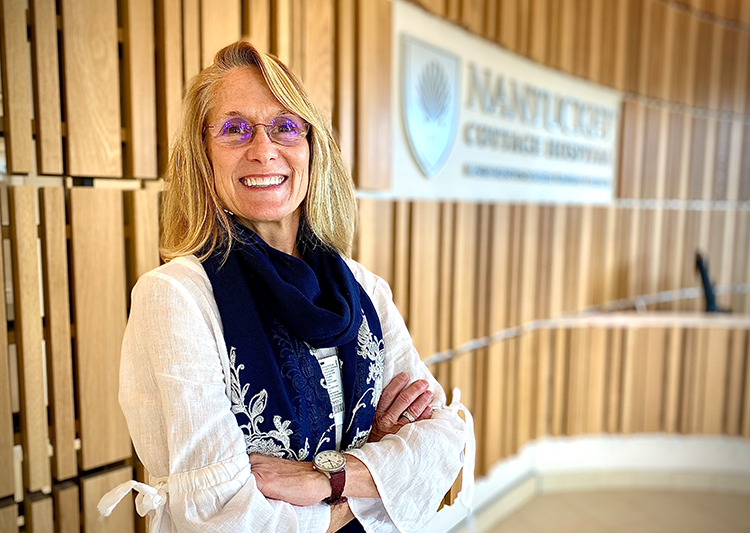 Debbie Dolan thought she had seen it all when after 30 years as a nurse, she was asked to step in to briefly support a hospice program in North Central Pennsylvania.
"I remember being so resistant to the idea of working in hospice, thinking 'oh no I don't want to do that!'" said Dolan. "But the first day I was there, I loved it. It was like being hit over the head and realizing I found what I wanted to do for the rest of my life."
Now, after 15 years working in palliative care and hospice, Dolan has been selected to lead Nantucket's Palliative Care program supported by PASCON, as the program's newest director. As the new director, Dolan will lead a team of health care specialists dedicated to providing physical, psychological and spiritual care to individuals on Nantucket with life-threatening illness as well as their families, at no cost to the patient.
"This position really is a gift. It took me 30 years to find this passion, and now I'm here with an opportunity to give back to the community, to hear people's stories, to protect them, respect them and carry their legacy on. That's an honor," said Dolan.
For Dolan, joining the organization in the wake of a global pandemic has presented a number of opportunities she hopes to capitalize on moving forward.
"We've seen so much of our lives transition to online platforms over this last year, and it's provided us with a new avenue to reach patients and families where they're most comfortable," said Dolan. "We've created virtual cancer support groups, our clinical psychologist holds regular caregiver and bereavement support groups over Zoom and our clinicians have adapted to meeting patients and families virtually."
While advances made in virtual communication have helped facilitate many of the interactions Palliative Care has become known for throughout the pandemic, Dolan believes that the core work of Palliative Care doesn't rely on any one medium, but rather the relationships its staff has been able to build throughout the community.
"Palliative care is about serious illness care. It's about working with a patient, their family and their care team so that they can realize their goals and live the kind of life they're looking for," said Dolan. "So much of that work revolves around face-to-face meetings where a patient lets us into their life and we learn about their values, their hopes and the life they want to live, then having the difficult conversations around how to get our patients where they want to be."
Regardless of the medium, the central role of Palliative Care and PASCON revolves around one major tenet; ensuring patients are able to plan for and live the kind of lives they desire.
"The goal is always to meet people wherever they need us, whether it's in a clinic, here in the hospital or in their home, and figure out how they want to live their lives," said Dolan. "Once we can help a patient answer that, we're on the path to delivering the kind of high-quality, personalized care that everyone in this community deserves."
Funded by the Palliative & Supportive Care of Nantucket Foundation, the Palliative & Support Care Program is operated as a department of the Nantucket Cottage Hospital. To learn more about PASCON or the Palliative & Supportive Care Program and its free services, please visit pascon.org or call (508) 825-8325.