NCH Welcomes New Island Provider – Dr. Johns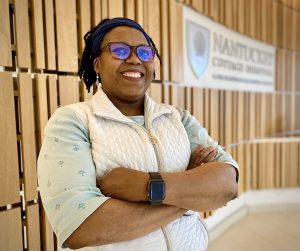 Last week Nantucket Cottage Hospital welcomed Dr. Alexinna Johns as Nantucket's newest year-round primary care doctor.
"When I first came to Nantucket, and met the team, it seemed serendipitous, Nantucket is such an amazing and diverse community, and being given the opportunity to learn about these patients and help navigate their care path is truly a gift," said Dr. Johns.
Born in Sierra Leone, Dr. Johns, migrated to the United States with her family at a young age, nearly four decades ago, before attending the University of California, Riverside, where she graduated with honors followed by medical school at Ross University's School of Medicine.
"I believe my background unintentionally prepared me for this role, growing up and understanding strife and struggle really gives you a wider perspective on the human experience," said Dr. Johns. "My experience helps me understand the patient at a more personal level and allows me to better navigate their care."
As a member of NCH, Dr. Johns will be practicing full spectrum family medicine with obstetrics at NCH's outpatient clinic with an added focus on addiction medicine.
"Coming to Nantucket, I'm most excited about broadening my skills and being able to practice OB and addiction medicine again," said Dr. Johns. "There is something inspiring about being able to walk someone through the journey of whole person healing in the recovery process and working in OB is like being part of a miracle every day."
Prior to joining NCH, Dr. Johns lived in Puyallup, Washington, where she previously practiced family medicine and geriatrics at Western State Hospital. Prior to her practice at Western State Hospital, she spent nine years as a faculty member of the Family Medicine Residency Program at East Pierce Family Medicine.
"The addition of Dr. Johns to our exceptional line-up of island doctors is part of our enduring commitment to delivering the best whole person care possible to our Nantucket community," said Gary Shaw, President and CEO of Nantucket Cottage Hospital. "This addition means that there will be more appointments available to our patients, reducing wait times, while increasing the quality of care that comes with having a provider on-site that specializes in the high-demand field's our community needs, like obstetrics and addiction medicine."