NCH Welcomes John F. D'Avella, MD, FASN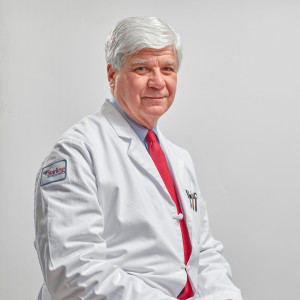 Nantucket Cottage Hospital announced today that John F. D'Avella, MD, FASN, has joined the hospital's medical staff as an internal medicine physician.
Dr. D'Avella is moving to the island and joining NCH following a distinguished career in Connecticut, where he was a physician at Hartford Hospital for more than 30 years, with an extensive background in nephrology and dialysis. He and his wife Denise own a home on Nantucket, and have visited the island for many years.
Dr. D'Avella will initially join Dr. Diane Pearl's practice on a part-time basis, while also providing nephrology consults in the hospital's medical/surgical unit and in the emergency department, and accepting referrals for patients with kidney issues, difficult to manage hypertension, diabetes, and kidney stones.
"I am excited to join the talented medical staff at Nantucket Cottage Hospital and to become part of the year-round island community," said Dr. D'Avella. "I look forward to engaging with patients and colleagues to meet the medical needs of the island."
Dr. D'Avella has served as the professor of clinical medicine at the University of Connecticut School Medicine, as well as the medical director of Hartford Hospital's dialysis unit. In 2016, he was awarded a Lifetime Achievement Award from the National Kidney Foundation of Connecticut.
His hiring demonstrates Nantucket Cottage Hospital's continuing efforts to provide the island community with a full complement of physicians of varying specialties and enhanced access to medical services.
"Dr. D'Avella is an excellent addition to our medical staff at NCH and we are pleased to be bringing in a physician with his experience and background," said Greg Bird, RN, MS, Chief Operating Officer, Chief Nursing Officer, and Vice President for Patient Care Services at Nantucket Cottage Hospital.
In addition to his roles in the dialysis and home training units at Hartford Hospital, Dr. D'Avella also served as a transplant physician for more than two decades. He received his medical degree from Georgetown University School of Medicine, and completed his internship and residencies at the Yale New Haven Hospital.