NCH Nurse Manager Receives "40 Under 40" Award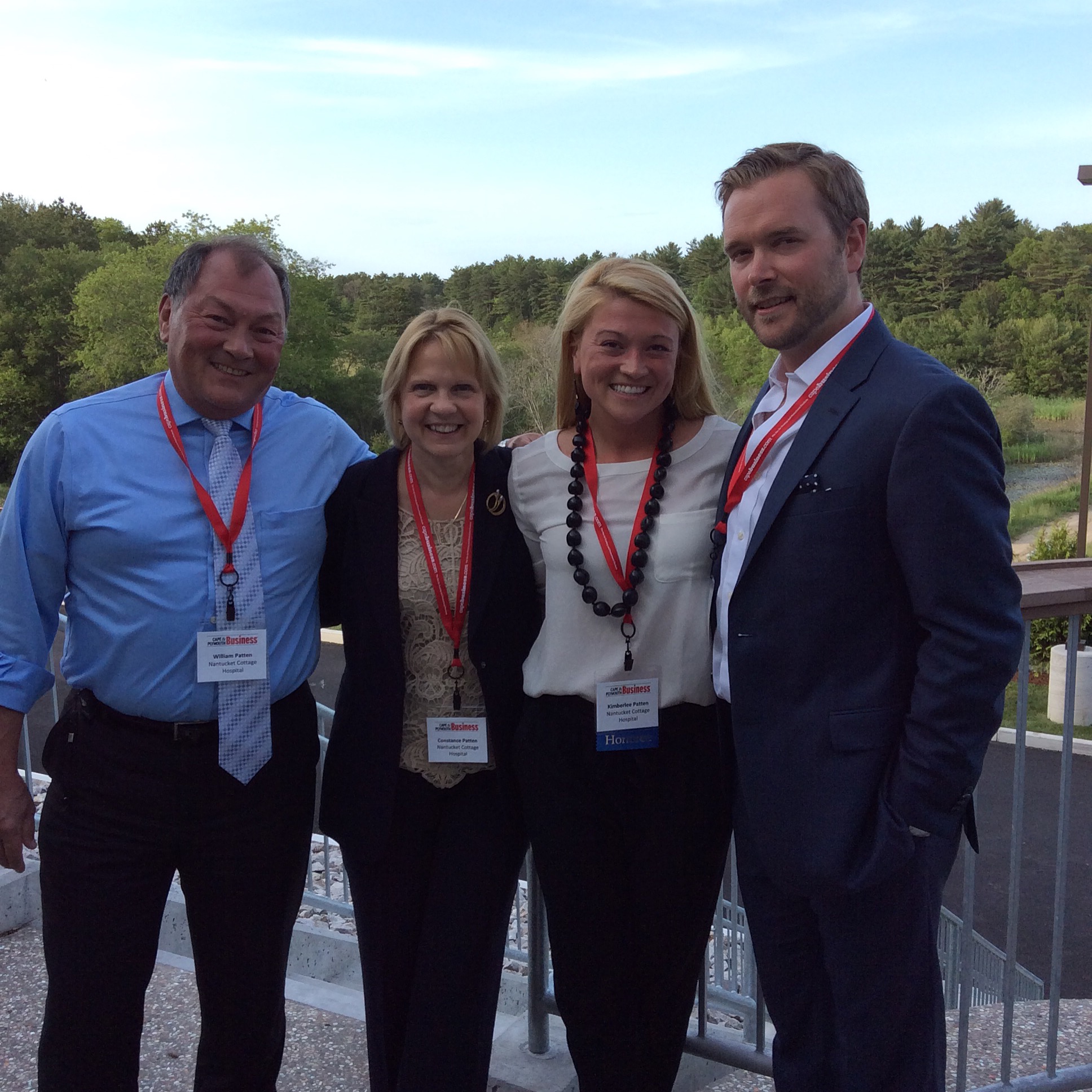 NCH Nurse Manager Kim Patten, second from right, with her family at the 40 Under 40 awards reception
---
Nantucket Cottage Hospital's Medical/Surgical and Infusion Services Nurse Manager Kimberlee Patten has been recognized by Cape & Plymouth Business magazine with one of its "40 Under 40" awards, which recognize the region's top young business leaders who excel  in their industry and show dynamic leadership.
The program honors distinguished business people under the age of 40 who have made a mark in our region at an extraordinarily young age.
Patten, 31, has worked at Nantucket Cottage Hospital since 2011, and has served as a Registered Nurse, the hospital's Clinical Nursing Supervisor, and today as the Medical/Surgical and Infusion Services Nurse Manager.
Under Patten's leadership, the NCH Medical/Surgical team was recently recognized with an honorable mention during The Schwartz Center's 2014 Compassionate Caregiver Awards. Her departments care for more than 600 inpatients every year and handle more than 1,800 outpatient visits annually at NCH. She is a graduate of Salve Regina University, where she earned her BSN degree.
"I take pride in the opportunities in which I can positively affect somebody's day, life, or experience," Patten said.
Patten and the other honorees were celebrated at a special event on Thursday, June 18th at the TownePlace Suites by Marriott in Wareham, MA.
Read Patten's interview with Cape & Plymouth Business below:
Career background/highlights: 
I have worked in the medical field since I was 18 years old. I started in my hometown of Springfield as a tech at Baystate Medical Center, eventually earning my RN. I moved to Nantucket five years ago, started as a staff RN on the Medical Surgical Unit at Nantucket Cottage Hospital and eventually was wasked to step into a Nursing Clinical Supervisor role, then into the Medical Surgical Manager position. I am a member of the Organization of Nursing Leadership, and attended their Leadership Academy. 
Community involvement: 
Active advocate and member of the new hospital planning board, volunteer for annual health fairs, various fundraisers in the Nantucket community. 
Favorite professional moment: 
My staff recently received a Compassionate Caregiver Award through the Schwartz Center. I take pride in the opportunities in which I can positively affect somebody's day, life, or experience. 
If I wasn't in the career I'm in, what would I be doing? 
I would love to be a sustainable farmer, mass producing cooking or healing herbs, naturo-pathic pursuits, or even owning my own restaurant. 
Who is your number 1 role model? 
My parents inspire me every day, they have been in the health care industry since before I came along. I aspire to maintain the work ethic they have demonstrated for 35-plus years. 
What mistake has taught me the most? 
I have learned that the grass IS always greener, it is important to be happy where you are in life, seek and study change that is presented, but also give yourself time to figure out who you are so that you can make beneficial changes. 
What's something about me that would surprise people? 
I am currently on a quest to complete a marathon in all 50 states (so far three); I am also attempting to hike the tallest peak in every state (so far six). They are lofty goals!