Nantucket Cottage Hospital's 109th Annual Meeting Recap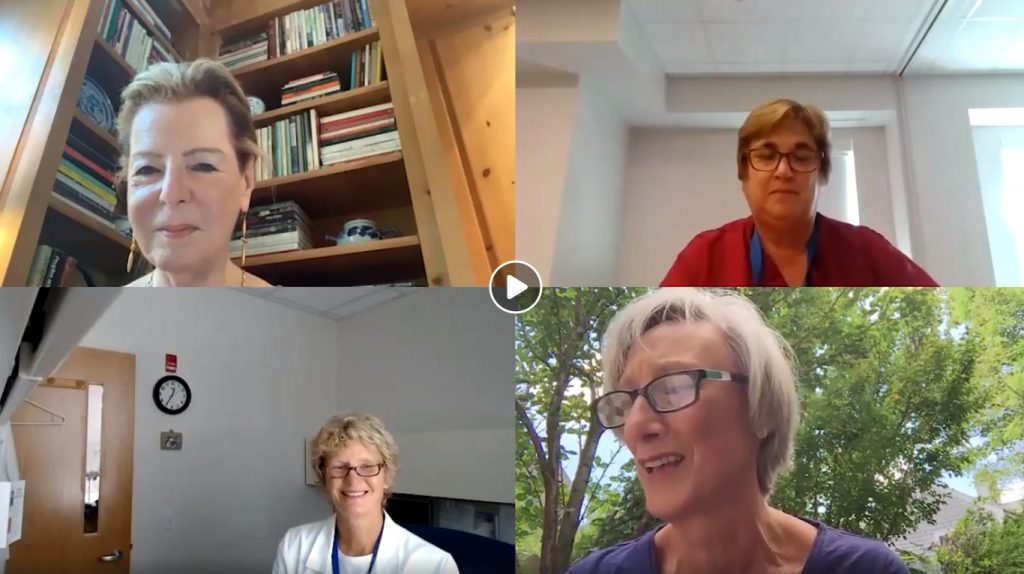 Nantucket Cottage Hospital welcomed Craig Muhlhauser as its new Chairman of the Board of Trustees on Friday during its 109th Annual Meeting while honoring the accomplishments of its outgoing Chair Kevin Hickey, and presented the hospital's annual awards to staff and community members. Special guest Dr. Peter Slavin, President of Massachusetts General Hospital, provided an update from Boston, touching on the research happening around treatments and immunizations for COVID-19.
Nantucket Cottage Hospital President and CEO Gary Shaw announced to the annual meeting attendees gathering virtually on Zoom that Muhlhauser had been appointed as the new Chairman of the Board of Trustees.
"With a new facility and new leadership under Gary Shaw, Nantucket Cottage Hospital has a unique opportunity to fulfill the promise of our new hospital, deliver more and better services to our patients, and help make our community healthier and safer," Muhlhauser said. "I'm excited to be part of this journey and looking forward to the year to come."
Both Muhlhauser and Shaw expressed their gratitude to outgoing chair Kevin Hickey, who is stepping down after 5 years in his leadership role on the Board of Trustees.
"Kevin has led our hospital through one of the most dynamic and challenging times in its history, so I think it's fair to say we all owe him a debt of gratitude for his service to NCH," Muhlhauser said. "With Kevin's leadership and vision, we were able to build our community's new hospital, complete a $120 million capital campaign, and set the foundation for the great future this organization has to look forward to."
At the end of the meeting, the hospital announced its annual awards to staff and community members who have made significant contributions to the mission of NCH over the past year.
Bruce Percelay Philanthropic Award
Capital campaign chair Bruce Percelay presented the Bruce Percelay Philanthropic Award to outgoing Trustee Jeanine Borthwick.
"Jeanine has been an incredibly dedicated, motivated and effective fundraiser for this hospital," Percelay said. "Through the Borthwicks' own generosity, through Jeanine's ability to raise money, all the way through her creation of the 'Nantucketopoly' game which benefited the hospital, she has proven herself to be invaluable and has made a permanent contribution to the hospital."
Seinfeld/Hartmann Prize for Compassionate Care
Nantucket Cottage Hospital patient services coordinator Diane Cabral was awarded the 2020 Seinfeld/Hartmann Prize for Compassionate Medical Care after being nominated by her peers and community members.
Nantucket Cottage Hospital established the annual prize to honor a staff member for extraordinarily compassionate care. The Seinfeld/Hartmann Prize for Compassionate Care pays lasting tribute to a physician, nurse or any other hospital staff member who throughout his or her professional career demonstrates an outstanding level of compassion and care in their role at NCH.
"For over 30 years, Diane has been the first face or voice for thousands and thousands of patients, bringing true compassion to the hospital," said former President and CEO Dr. Margot Hartmann, the co-founder of the prize.
Sandy Craig Leadership Award
The Sandy Craig Leadership Award, given in memory of Alexander "Sandy" M. Craig, Jr., to a member of the community who has made a positive contribution to the island through Nantucket Cottage Hospital, was presented to Kevin Hickey, as well as the elected members of the Nantucket Select Board and the town of Nantucket's core Incident Command team.
"Since 2015, Kevin has tirelessly served as Chair of our Board of Trustees during one of the most challenging and historic times in the history of Nantucket Cottage Hospital," Shaw said. "Kevin guided our hospital through the construction of our new facility, a $120 million capital campaign, multiple leadership transitions, and so many more unique and challenging circumstances. We could not have accomplished what we did without his leadership."
The other recipients included the five elected Select Board members, as well as town manager Libby Gibson, director of Health and Human Services Roberto Santamaria, Emergency Management Coordinator Brendan Coakley, Police Chief Bill Pittman and Fire Chief Steve Murphy. Gibson and Select Board Chair Dawn Hill Holdgate were presented the award as they represented their colleagues during the ceremony.
"Their leadership helped guide the town through some very difficult and challenging times, and their willingness to collaborate and partner with the hospital during the ongoing coronavirus response has been tremendously valuable," Shaw said. "They made the difficult and sometimes controversial decisions that helped keep Nantucket safe."
Phil Murray Business Award
The Phil Murray Business Award is given in memory of Philip Chase Murray to a business that has made a positive contribution to the island through the Nantucket Cottage Hospital. This year's Phil Murray Business Award went to two island organizations: Phil Marks and Nantucket Energy, as well as the Community Foundation for Nantucket.
When the hospital's coronavirus pandemic response ramped up in March, it put out a call to the community for supplies of PPE and other items in the event they would be needed during a surge of COVID-19 patients. So many community members stepped up, but one person who caught the attention of the hospital was Phil Marks, who was at the NCH loading dock almost immediately with a pallet of 30,000 gloves, as well as oxygen, valves, and portable oxygen generating machines. Phil and his company Nantucket Energy were there for the hospital in so many ways during the ordeal.
Under the leadership of Margaretta Andrews, the Community Foundation served a critical role for the island community by establishing the Nantucket Fund for Emergency Relief that has helped so many Nantucket non-profits, including the hospital, to continue to serve island residents through the pandemic. This fund has also been critical in providing the resources needed to deliver food to seniors and others in need during the crisis. The Community Foundation has proven itself to be an indispensable source of guidance and support for the community.
Myrt Eldridge Volunteer of the Year Award
The Myrt Eldridge Volunteer of the Year Award is given in memory of Myrtle B. Eldridge to the hospital volunteer who best exemplifies Myrt's spirit of self-less dedication to the betterment of the hospital and commitment to our patients. The 2020 Myrt Eldridge Volunteer of the Year awards were presented to Ayesha Barber and Alli Mitchell, as well as Heather Woodbury.
Ayesha and Alli were the driving force behind the community effort to sew homemade masks for individuals and businesses around the island during the initial coronavirus response. They galvanized and organized a small army of seamstresses and others to make masks both for the hospital and many others across the island to get them the proper protection and keep everyone safe. Woodbury, co-owner of Wicked Island Bakery, was the leader of the "Feed the Frontlines" initiative which organized island restaurants, bakeries and other food establishments to provide meals for the hospital staff and the town's first responders.
"This was so gratifying for staff here at the hospital and I know these deliveries of delicious food from our friends and neighbors lifted the spirits of our employees during a very difficult time. Heather helped make this happen and did it all on a volunteer basis out of the goodness of her heart," Shaw said.
Finally, the NCH Board of Trustees also welcomed two new members, including:
Jeanette Ives-Erickson, RN, DNP
Ronald J. Levy
The outgoing Trustees who had reached their term limit or were not standing for reelection were thanked for their service, including Judy Belash, Jeanine Borthwick, Hickey, Ian Loring, and another former Chair, Mike Roberts.