Nantucket Cottage Hospital's 107th Annual Meeting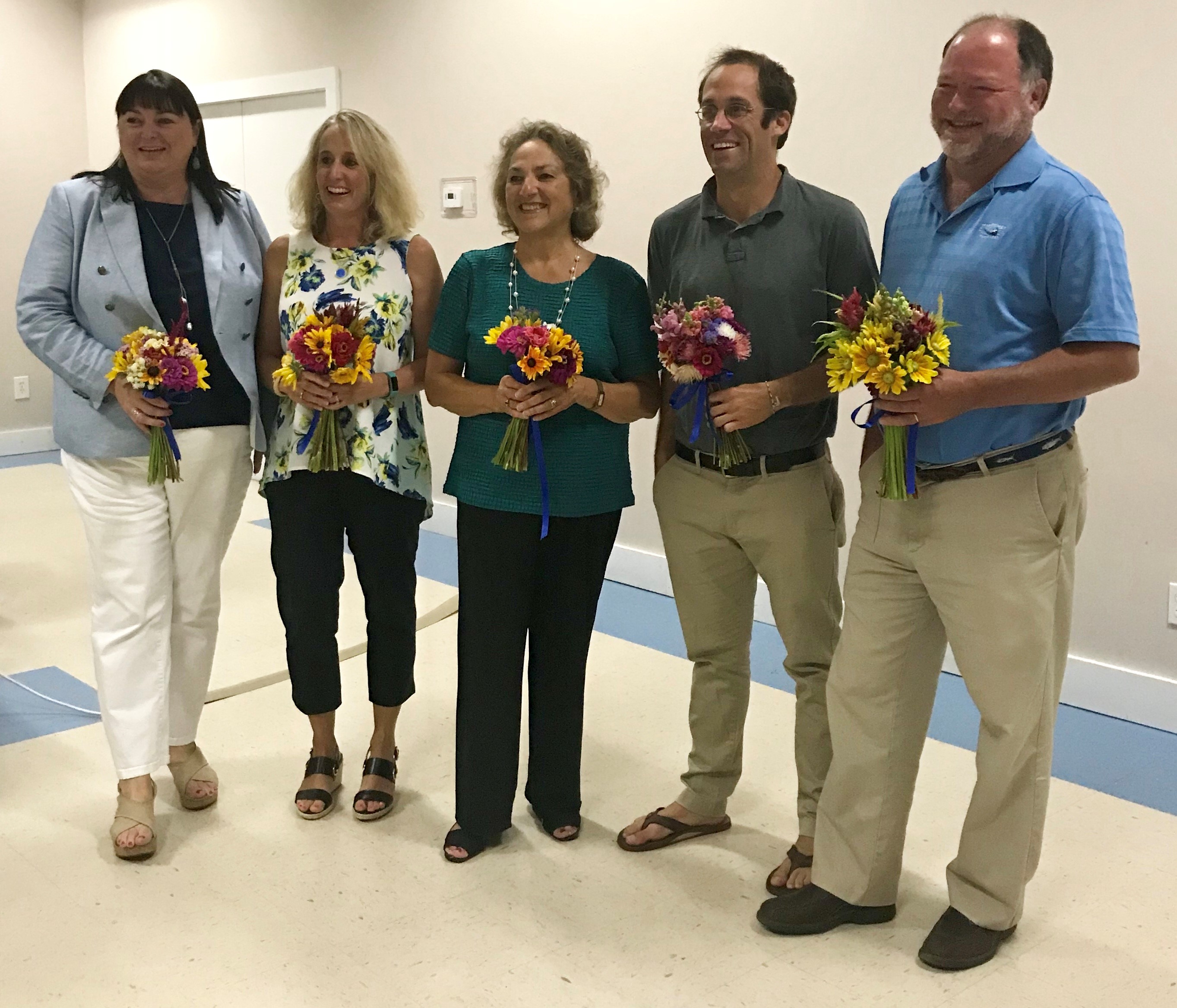 Nantucket Cottage Hospital held its 107th Annual Meeting on Friday, Aug. 17th and welcomed new members to its Board of Trustees, thanked outgoing members for their service, and honored its volunteers and leaders.
Chairman Kevin Hickey welcomed the new members of the Board of Trustees, including Joseph M. Garasic, MD, Gerry Keneally, and Ian Loring. Hickey also thanked the outgoing members of the Board, including Erwin L. Greenberg, Philip A. Nardone, Jr., and Laura Reynolds.
Hickey and NCH Public Information Officer Jason Graziadei updated attendees on the state of the organization, the status of the new hospital, and other major projects on the horizon. Courtney O'Neill, executive director of the Nantucket Cottage Hospital Foundation, presented the hospital's annual leadership awards.
Jim Pignato and Jill Roethke, the co-event directors of the annual Swim Across America – Nantucket event, were the recipients of the Myrt Eldridge Volunteer of the Year Award.
"As the co-event directors for Swim Across America's Nantucket open water swims, Jim and Jill have devoted countless hours and seemingly limitless energy toward an event that benefits the NCH oncology program and Palliative & Supportive Care of Nantucket," O'Neill said. "Their work with Swim Across America and the infusion of funding provided by this event has unquestionably raised the level of cancer care services on Nantucket for island patients."
Aisling Glynn, owner of ACKtivities, was presented with the Phil Murray Business Award for her many positive contributions to the island community and in support of Nantucket Cottage Hospital over the years through her management of the Boston Pops on Nantucket event.
"In the last 15 years of Pops, if there has been a seemingly insurmountable problem that our Foundation office has faced, chances are it was Aisling Glynn that found a solution," O'Neill said. "Aisling is always the calm, cool leader that keeps it all together to ensure a successful event for the hospital."
Finally, the 2018 Sandy Craig Leadership Award was presented to two individuals: longtime NCH social services manager Peter MacKay, who recently retired after 33 years in that position; and Charlene Thurston, the program director and nurse practitioner of Palliative and Supportive Care of Nantucket (PASCON), who is also retiring after 30 years in that role.
"With Peter, going above and beyond for patients wasn't the exception, it was the rule," O'Neill said. "Peter's retirement is truly a loss for Nantucket Cottage Hospital and the island community, but the legacy he established within the social services department will continue to live on and continue to benefit patients."
"Under Charlene's leadership, PASCON has grown from a small group of volunteers to a full-fledged department of NCH with a full-time staff and volunteers that is capable of serving hundreds of people through all stages of illness and grief," O'Neill said. "Charlene consistently looked for ways to expand PASCON and enhance its ability to serve patients."