Nantucket Cottage Hospital's 104th Annual Meeting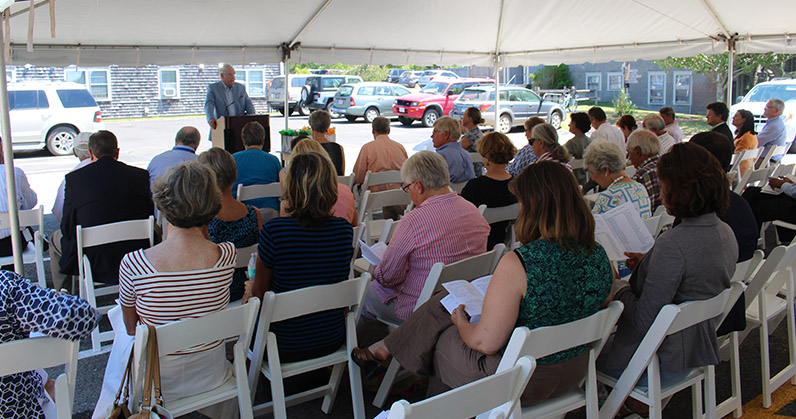 Nantucket Cottage Hospital held its 104th Annual Meeting this morning and welcomed new members to its Board of Trustees and Advisory Council, thanked outgoing members for their service, and honored its volunteers and leaders.
Trustee Kevin Hickey was elected as the Board's new chairman, taking the reins from outgoing chairman Michael A. F. Roberts, and Trustee Jack Burke was elected vice chairman. In addition two new members, Cathy Ward and Robert L. Reynolds, were elected to the Board.
In recognition of their longtime service to Nantucket Cottage Hospital, Stephen Anderson and Margaretta Andrews were elected as Honorary Trustees, joining Charles Balas in that role on the Board.
Ward, the current President of the Board of Directors of the Hospital Thrift Shop, was also honored with the Myrt Eldridge Volunteer of the Year award.
"It's hard to think of another volunteer who does so much, and who makes such an impact, all with intelligence and good humor, as Cathy does," said NCH President and CEO Dr. Margot Hartmann.
Nantucket Bank and the Blue Hills Bank Charitable Foundation received the Phil Murray Business Award for their renewed community involvement and assistance in completing the hospital's recent way finding signage project.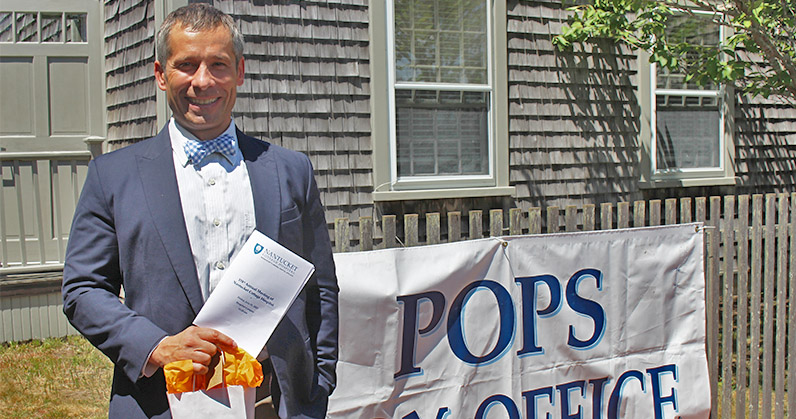 There were two recipients of this year's Sandy Craig Leadership Award, including outgoing Trustee Maureen Hackett.
"Maureen's leadership, professionalism, and understanding of philanthropy in all its forms have raised our game to a whole new level," Dr. Hartmann said.
The other recipient of the Sandy Craig Leadership Award was outgoing chairman Michael A. F. Roberts.
"Mike has led our Board of Trustees as chairman since 2011, and has presided over a period of tremendous success and growth for the hospital," Dr. Hartmann said. "His leadership has been instrumental in our business and financial turnaround, as well as the culture shift that we've experienced, and the expansion of services and programs for our patients."
A number of Trustees were reelected to the Board, including:
Jack Burke
Erwin Greenberg
Kevin Hickey
Phil Nardone
Judith Belash
Bernard Carrey
The Nantucket Cottage Hospital Advisory Council also welcomed new members at this year's Annual Meeting, including:
Debby Belichick
Courtney Bridges
Jennifer Cohen
Kat Robinson Greider
Patty Keneally
Dual MacIntyre
Jill Roethke
Janet Schulte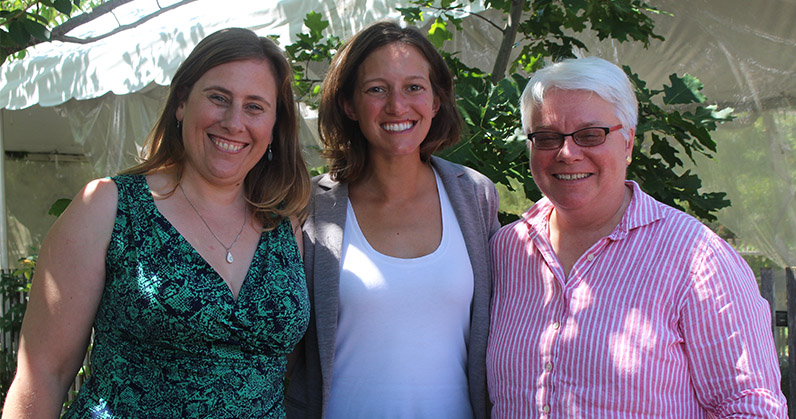 The outgoing Trustees who had reached their term limit or were not standing for reelection were thanked for their service, including Bruce Chabner, Maureen Hackett, Fred Mandell, and Bruce Percelay. Hackett will continue to serve as the chair of the capital campaign chair.
The outgoing members of the Advisory Council were also recognized, including Roger Block, Susan Heard, Jeffrey Lockhart, Jeanne Riggs, Barbara Spitler, Louise Swift and Judith Tolsdorf.
The Annual Meeting included a poignant moment of silence for members of the Nantucket Cottage Hospital community who passed away during the last year, including: Frederick Carleton; Tim Davis; Nelson Doubleday; Keri Dwyer; Georgia Gosnell; Jody Green; Robin Harvey; Bill Hays; Bonnee Larsen; Chris Lohmann; Frank Powers, Jr.; Frank Rooney; Lucy Saloman; therapy dog Tucker Squire; Bob Stark, Jr.; and Will Waller.