Meet NCH Chef Wendy Turbini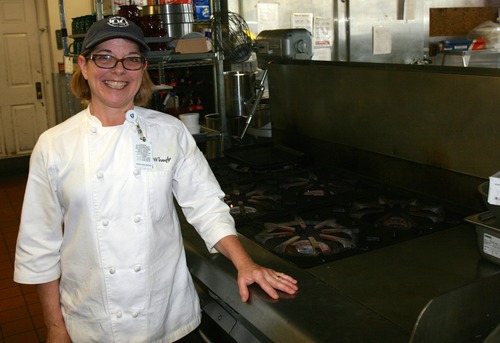 Nantucket Cottage Hospital chef Wendy Turbini cooks delicious and nutritious meals for hospital staff and patients.
Wendy is a graduate of the Culinary Institute of America and has more than 40 years of cooking and restaurant experience. On Nantucket, she served as the executive chef at the Jared Coffin House for 10 years, and also worked as a chef at her husband's butcher shop.
She credits her friend and fellow chef Kate Deras for encouraging her to join the culinary staff at Nantucket Cottage Hospital.
"I've been here for 10 years and am delighted to be a part of the team," Wendy said. "Our team in food services is looking forward to featuring fresh local produce generously donated by Moors End Farm and our kitchen garden."
Wendy Turbini grew up in Lancaster County, PA, surrounded by beautiful farmland and incredible produce. Her mother owned a restaurant, so naturally Wendy got her start in the business at an early age – the fourth grade, in fact!
Below is one of her recipes that is served in the NCH cafeteria!
Wendy's Homemade Granola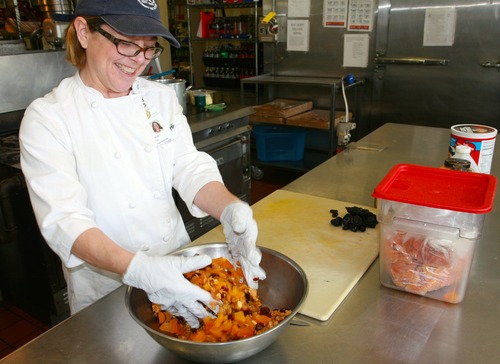 Ingredients
Makes 12 cups
4 cups old fashioned rolled oats
1 ½ cups sweetened, shredded coconut
1 ½ cups sliced almonds
½ cup chopped hazelnuts
¼ cup sunflower seedss
¾ cup canola oil
¾ cup "good" honey
1 teaspoon vanilla extract
1 cup dried cranberries
1 cup dried cherries
1 cup small diced dried apricots
Directions
Preheat oven to 325 degrees
In a large bowl, combine oats, coconut, almonds, hazelnut, and sunflower seats. Mix well. In a small bowl, whisk together oil, honey and vanilla.
Pour the wet ingredients over the dry ingredients and mix thoroughly until the dry ingredients are evenly coated
Bake 30 to 40 minutes or until golden brown. Stir occasionally to ensure even browning.
Remove from the oven and allow to cool, stirring occasionally. Add the cranberries, cherries and apricots.
Store in an air-tight container.