Introducing Hannah Severns, Psychiatric Nurse Practitioner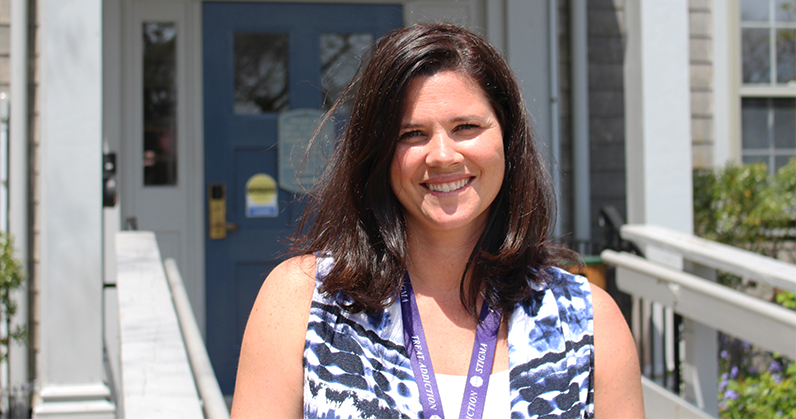 Nantucket Cottage Hospital this week welcomed psychiatric nurse practitioner Hannah Severns to the island's primary care group practice to fill a unique new position that will help address the island's behavioral health needs.
Severns, who has an extensive background in the assessment and treatment of mental health issues and substance use disorders, will be embedded in the primary care physician offices to assess, diagnose and treat patients with a wide range of behavioral health issues. In this role, Severns will respond to positive behavioral health screenings in an effort to address the needs of these patients before they reach a crisis point. She will complete psychiatric evaluations, level of care assessments, and provide recommendations and treatment.
"I'm excited to be here and I'm looking forward to working with the community to provide more comprehensive treatment," Severns said.
The startup funding for this new position has been generously provided through a grant from The Tower Foundation to the Nantucket Behavioral Health Task Force.
"I'm thrilled that Hannah is here, and it's a position we haven't had on the island before but one that is starting to be used very successfully in other places in the country," said Peter MacKay, the Social Services Department manager at Nantucket Cottage Hospital and co-chair of the Behavioral Health Task Force. "I think it will be a great addition for our primary care doctors and the hospital as a whole, with a special emphasis on the behavioral health community to catch signs of mental health issues or substance abuse disorders preemptively and not let them turn into something larger."
The Nantucket Behavioral Health Task Force is a collaborative effort among island health agencies, both public and non-profit organizations, as well as private practitioners, clinicians and advocates. Through grants, collaboration and planning, the task force aims to expand behavioral health services on the island, and provide training and educational opportunities for both caregivers and the Nantucket community at large.
In addition to caring for individuals with substance use disorders and/or psychiatric conditions, Severns will also assist providers with the care and maintenance of patients undergoing suboxone treatment, work in collaboration with the primary care providers as part of an outpatient team, and be responsible for gathering and reviewing medical data and communicating with physicians about these patients.
Originally from Maine, Severns received her undergraduate degree from the University of Maine – Farmington, and her Master of Science in Nursing degree from Northeastern University. She has since worked in a number of clinical settings, including Boston Children's Hospital, Maui Memorial Medical Center, Boston Medical Center Community Crisis Stabilization, Arbour Counseling Services, St. Mary's Regional Medical Center, and Boston Medical Center.