Hospital Thrift Shop Donates $625,000 to NCH after an Extraordinary Season on India Street
November 14, 2023 –  Wrapping up its 94th year in business, the Hospital Thrift Shop presented a check this morning to Nantucket Cottage Hospital, totaling $625,000.
"This donation is a remarkable reminder of what we can do as a community. Thank you to everyone involved with the Thrift Shop – the staff, volunteers, shoppers, and donors – for creating something so meaningful for our hospital and our community," said Amy Lee, President of NCH. "Employee housing is the hospital's most important capital need for the foreseeable future and this gift will make a meaningful impact."
The Thrift Shop has now donated over $7.5 million to Nantucket Cottage Hospital since 1929.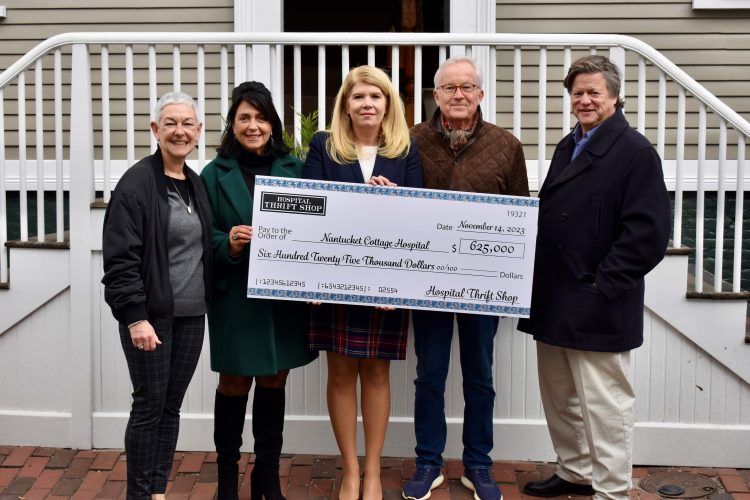 Mary Casey, Executive Director, Hospital Thrift Shop
Pam Leinbach, President of the Board of Directors, Hospital Thrift Shop
Amy Lee, President, Nantucket Cottage Hospital
Craig Muhlhauser, Chair, Board of Trustees, Nantucket Cottage Hospital
Chris Glowacki, Vice President, Strategy, Community Health and Chief Development Officer, Nantucket Cottage Hospital