NCH's Urgent Access Clinic is open in the Anderson Building at 57 Prospect Street to offer easy and convenient medical care for non-life-threatening conditions. 
Urgent Access appointments are available Monday through Friday, from 7:30 a.m. to 5:30 p.m. Appointments can be made through Mass General Brigham's Patient Gateway. Log-in to your Patient Gateway account and look for "Find Urgent Care Center" under the "Find Care" menu option to schedule your appointment.
If you cannot make an appointment online, please call 508-825-1000. Phone lines are open Monday through Friday, 7:30 a.m. to 4:30 p.m.
Urgent Access appointments are intended for a range of symptoms, including:
Coughs, colds, or sore throat
Ear and eye infections
Fever
Minor injuries (scrapes, cuts, minor burns, sprains)
Muscle/back pain
Rashes
Sexually transmitted infections
Tick bites
Urinary tract infections
Vaginal infections, such as yeast infections
---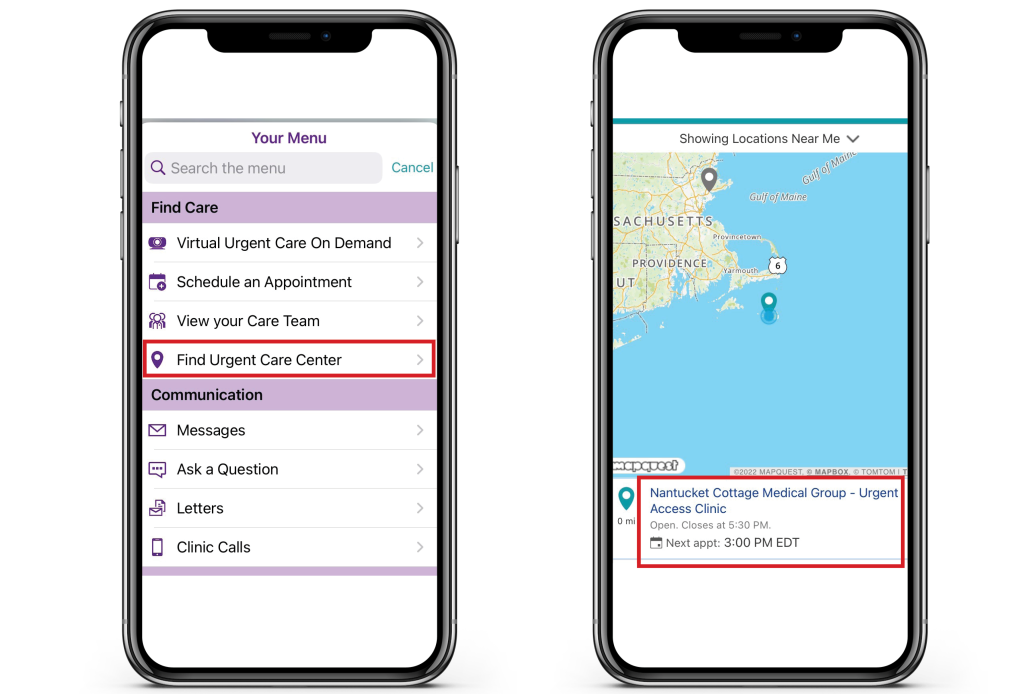 Note: if you see "No availability at this time," there are currently no self-scheduling appointments available for today. You may call 508-825-1000 to check if there have been any last-minute openings or can check again the following day for appointments.

---
Urgent Care services are typically billed as a physician or nurse practitioner visit, and your out-of-pocket costs are usually limited to the co-payment required by your health insurance plan. We will request payment of your co-payment when you check in for the visit.
For both physician office visits and hospital outpatient visits, your health insurance plan may require you to get a referral or authorization. In addition, Mass General Brigham providers may be considered "In Network" or "Out of Network" depending on the specifics of your health insurance plan, which could affect the amount you pay.
To be treated at our Urgent Access Clinic, you will need to be registered with Mass General Brigham. If you have received care at Nantucket Cottage Hospital in the past you are already registered. If you have not, please by call 866-211-6588 to register.
---
Virtual Urgent Care
At Mass General Brigham, online urgent care is available to anyone who has an internet connection and appropriate device. Virtual urgent care is conducted over a secure health care platform. Using a smart phone, tablet, or computer, patients can connect to our urgent care providers digitally and discuss health concerns.
What is Virtual Urgent Care?
Like traditional urgent care (also called "walk-in" care,) virtual urgent care is an option to be seen and treated for minor illnesses and injuries that do not require attention from a hospital emergency department. But with virtual urgent care, patients ages 3 and up can receive one-on-one treatment from medical providers without leaving their homes.
What is the difference between Care on Demand vs. Scheduled Care visits?
Care on Demand – You don't need an appointment. You'll be connected to an urgent care provider who can help you with a number of healthcare concerns.
Scheduled Virtual Urgent Care – For existing Mass General Brigham patients, if you have a Patient Gateway account you can choose a time to schedule an appointment convenient for you. Or if you prefer, you can contact the office of your primary care provider.
Get Care on Demand
Ready to begin your virtual urgent care visit now? Start your visit to connect to the next available provider now by clicking here.
Note: This on-demand virtual urgent care service is available from 7 am to 3 pm seven days a week for residents of Massachusetts and New Hampshire, age 3 and up.
Schedule a Virtual Urgent Care Appointment
If you are an existing Mass General Brigham patient with a Patient Gateway account, you can schedule an urgent care appointment via Patient Gateway. You can schedule a virtual urgent care appointment for a specific time slot later today or tomorrow.
To do this, log-in to your Patient Gateway account. Go to the "Menu" and find "Virtual Urgent Care On-Demand" in the Menu or search in the search bar. Follow the instructions to schedule a visit. Urgent care is available between 7 am and 11 pm, seven days a week.