Courtney O'Neill named Executive Director of the Nantucket Cottage Hospital Foundation
Courtney O'Neill, a longtime Nantucket resident and veteran of Nantucket Cottage Hospital, has been named executive director of the Nantucket Cottage Hospital Foundation by President and CEO Dr. Margot Hartmann.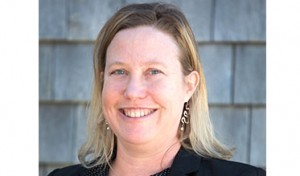 O'Neill, who began her career at NCH in 2007, has worked her way up through the organization and worn nearly every hat within the Foundation, including her most recent role as associate director. As executive director, O'Neill will manage the operations of the hospital's development office, including community outreach, fundraising, and events, such as the annual Boston Pops on Nantucket concert.
Every year the Nantucket Cottage Hospital Foundation generates more than $4 million for the hospital through The NCH Fund, the annual fundraising appeal, as well as events like the Pops. These funds bridge the gap between the hospital's operating expenses and revenue, and allow for strategic investments in programs and services to improve patient care.
"Courtney's dedication and commitment to the Hospital and its mission is unquestioned, as reflected in the high regard of her colleagues," Hartmann said. "Under her leadership, I know the Foundation will continue to flourish and support the Hospital in new and extraordinary ways."
O'Neill is a graduate of the Boston University School of Management, where she earned a Bachelor of Science degree in business administration, with a concentration in marketing. On Nantucket, O'Neill has worked in a variety of capacities, including owning her own business, "Handblock" on Main Street for many years. She has also served on the Board of Directors of the Nantucket Island Chamber of Commerce, and was the President of the Nantucket Merchants Association.
"Nantucket has been my home for more than 20 years and I am proud to be part of an organization that is such a vital part of the community I love," O'Neill said. "It has been a privilege to work alongside the dedicated leadership, staff, donors and volunteers of the hospital over the years. I have the utmost respect and gratitude for the important roles they play in sustaining our island's only hospital. Along with (NCH Foundation Chair) Maureen Hackett and my colleagues at the Foundation, I look forward to continuing our work together to support the hospital's mission."