Daily Nantucket COVID-19 Testing Updates
Nantucket Cottage Hospital is responding to the COVID-19 pandemic and will be providing updates on testing and confirmed cases on Nantucket. This page is updated once per day.
Interested in being tested for COVID-19? Click here.
---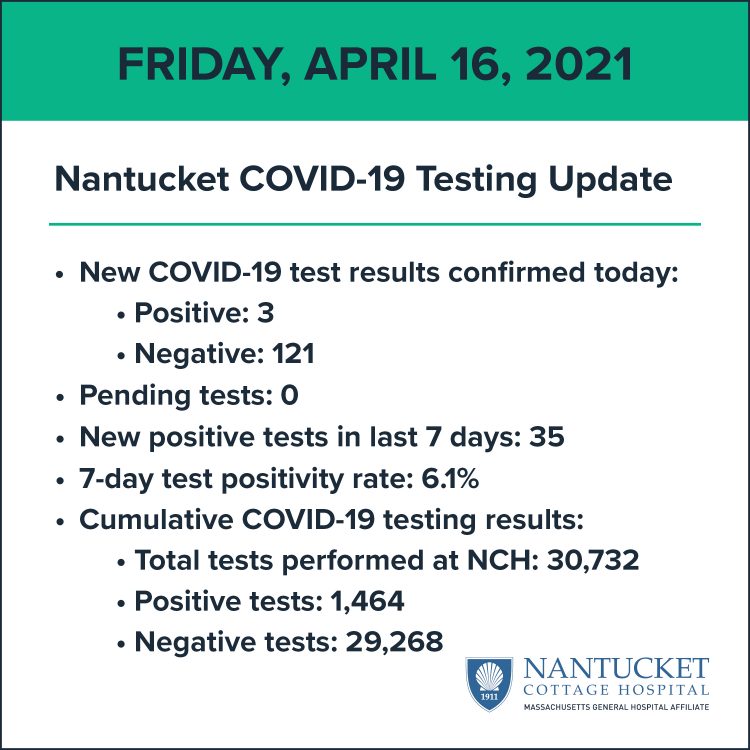 Testing numbers include symptomatic patients, asymptomatic individuals, as well as patients admitted to the hospital and those required to be tested prior to a medical procedure or surgery. 
---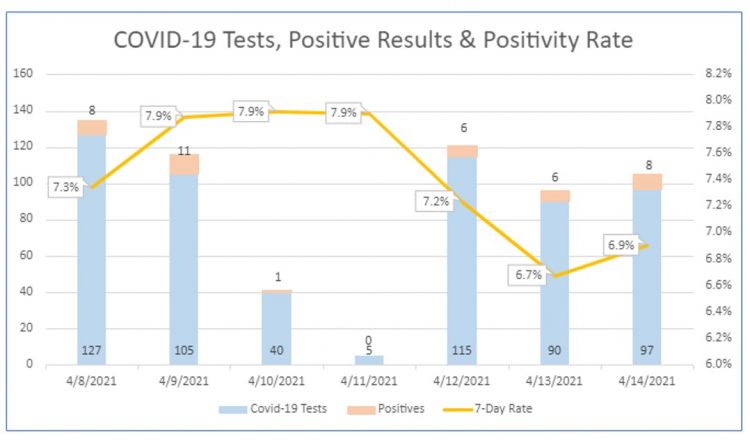 Graph last updated April 15, 2021 at 2:00 p.m.
---
COVID-19 Testing Hours as of April 5, 2021
COVID-19 testing hours for those with symptoms & close contacts
4/19/21 – CLOSED FOR HOLIDAY

Monday – Friday from 7:00 a.m. – 10:00 a.m.

Location: Drive-through evaluation site at 57 Prospect Street
COVID-19 elective testing for asymptomatic patients (no symptoms) – "Stop the Spread"
4/19/21 – CLOSED FOR HOLIDAY

Monday – Friday from 10:00 a.m. – 12:00 p.m.

Saturdays from 8:00 a.m. – 10:00 a.m.

Location: Drive-through evaluation site at 57 Prospect Street
Severe weather events will impact our ability to operate the drive-through testing site. Please check this website and our social media pages for updates on closures due to weather.
---
If you are experiencing any of the symptoms of COVID-19, including fever, sore throat, cough, runny nose or nasal congestion, shortness of breath, muscle aches, a loss of your sense of smell, or atypical symptoms concerning for COVID-19 (e.g. COVID toes), please come to the drive-through evaluation site at the main entrance of Nantucket Cottage Hospital, 57 Prospect Street.
IMPORTANT: Before you can be tested you must be registered with Mass General Brigham (formerly Partners Healthcare) by calling 866-211-6588. If you have received care at Nantucket Cottage Hospital in the past you are already registered, however, it is a good idea to confirm and update your information by calling the number above. Hours of operation to call and register: 7:30 a.m.  – 6 p.m. Mon-Thurs; and 7:30 a.m. – 5 p.m. Fridays.
---
Disclaimer: This website may contain third-party materials and/or links to third-party materials and third-party websites for your information and convenience. Partners HealthCare is not responsible for the availability, accuracy, or content of any of those third-party materials or websites nor does it endorse them. Prior to accessing this information or these third-party websites you may be asked to agree to additional terms and conditions provided by such third parties which govern access to and use of those websites or materials.