Daily Nantucket Coronavirus Testing Updates
Nantucket Cottage Hospital is responding to the COVID-19 pandemic and will be providing updates on testing and confirmed cases on Nantucket. This page will be updated once per day around 5 p.m.
---
Total number of patients tested for COVID-19 at NCH: 589
Positive tests: 14
Negative tests: 567
Pending tests: 8
Current COVID positive patients hospitalized at NCH: 0
Current patients under investigation (PUI) for COVID-19 hospitalized at NCH: 0
COVID positive patients transferred: 1
COVID positive patients recovered: 12*
COVID positive patients still in isolation: 1*
Last updated: May 29, 2020 at 4:50 p.m.
*these specific numbers will be updated weekly
---
Nantucket nursing home & senior living community residents and staff tested for COVID-19 through the Massachusetts State Mobile Testing program: 162
Positive tests: 0
Negative tests: 162
Last updated: May 19, 2020 at 5:40 p.m.
---
Sampled on April 28, SARS-CoV-2 virus was not detected in the sewage.
---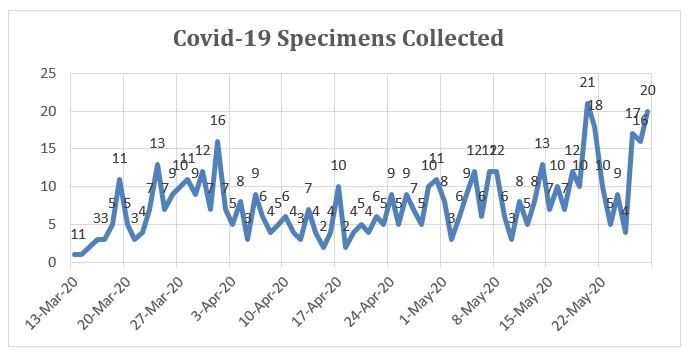 Suspected COVID-19 specimens collected at NCH for testing by day
---
If you are experiencing any of the symptoms of COVID-19, including fever, sore throat, cough, runny nose or nasal congestion, shortness of breath, muscle aches or a loss of your sense of smell, please come to the drive-through evaluation site at the main entrance of Nantucket Cottage Hospital, 57 Prospect Street. The evaluation site is open daily from 9 a.m. to 12 p.m. and 1 p.m. to 5 p.m. If you are experiencing a medical emergency, please call 911.
---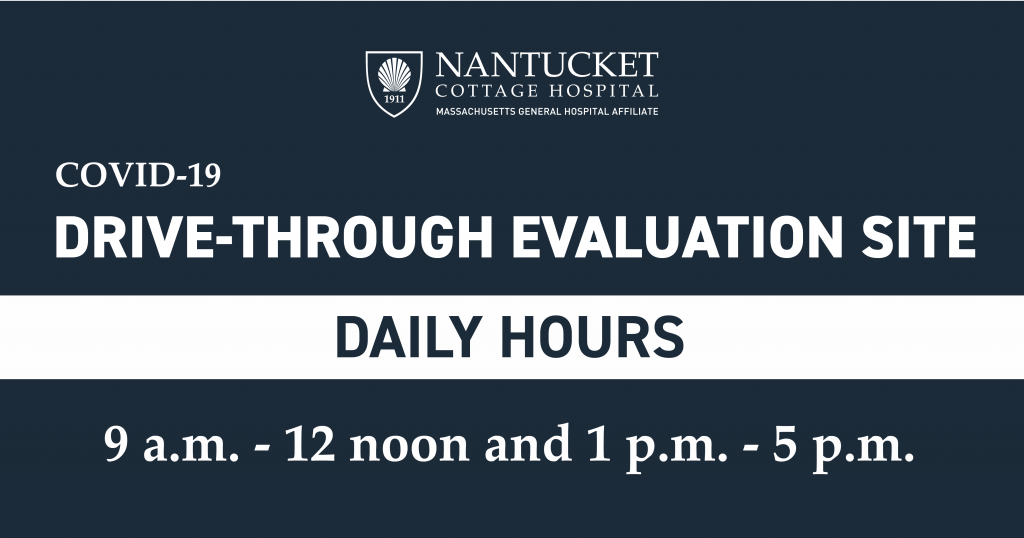 ---
Disclaimer: This website may contain third-party materials and/or links to third-party materials and third-party websites for your information and convenience. Partners HealthCare is not responsible for the availability, accuracy, or content of any of those third-party materials or websites nor does it endorse them. Prior to accessing this information or these third-party websites you may be asked to agree to additional terms and conditions provided by such third parties which govern access to and use of those websites or materials.