Cancer Care, Close to Home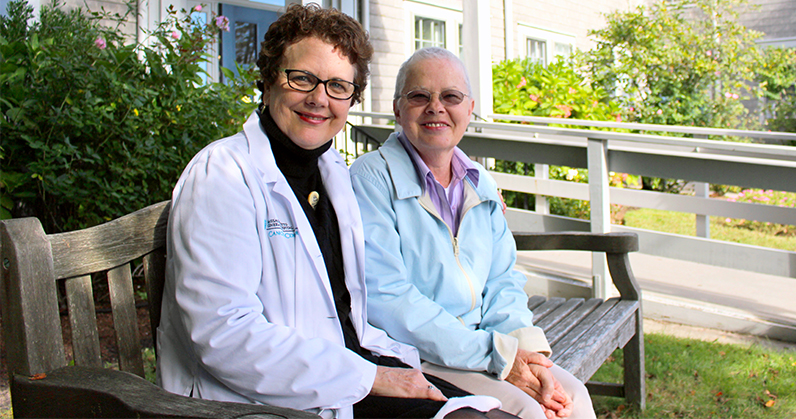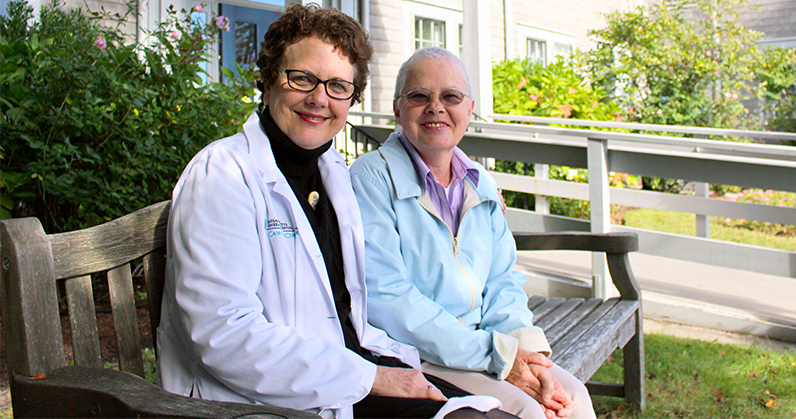 Kathy Sherman, right, with NCH oncology nurse Jane Kelly
For Nantucket resident Kathy Sherman, the initial shock of her breast cancer diagnosis was followed by a deluge of information about the disease, treatment, as well as how and where to access the medical care she needed.
"People don't know how hard this is or how much you have to go through until it happens to them," Sherman said.
Her anxiety eased when she learned about Nantucket Cottage Hospital's partnership with the Mass General Cancer Center, which provides island patients with oncology services, including chemotherapy, close to their homes and without the burdensome travel to the mainland.
Today, Sherman is being treated at Nantucket Cottage Hospital's infusion clinic with chemotherapy, and has monthly appointments with MGH oncologists who travel to the island to see NCH patients.
"I can't say enough – they're just fabulous here," Sherman said. "I know a couple people who've come down with cancer and I told them 'why are you going to Boston? They put the same thing in you up there as they put in you here.' With what you have to go through, it's just easier to go home, lay down in bed and not be travelling."
Developed in partnership with Massachusetts General Hospital and led by Mass General's Richard T. Penson, MD, Nantucket Cottage Hospital's oncology program brings a team of cancer specialists to the island every month for patient consultations. In addition, island native Jane Kelly, a Board Certified Advanced Practice Oncology Registered Nurse, is on-site to see cancer patients five days a week. And, of course, we have our own community of doctors and clinicians working in tandem with the Mass General team to support patients and provide treatment as well. Our program engages everyone on our staff to focus on the interaction with our patients.
Cancer is a complicated disease that takes many forms. Yet many treatments are routine and can be provided on an outpatient basis through Nantucket Cottage Hospital. In cases that require more complex care, we'll work with our Mass General partners to schedule off-island consultations and treatments. No matter what form of cancer you may have, no matter what medical or therapeutic services you may need, you will be surrounded by care.
Learn more about cancer care at NCH by clicking here. This program receives significant support from the annual Swim Across America open water swim at Jetties Beach.