Breast Cancer Awareness Month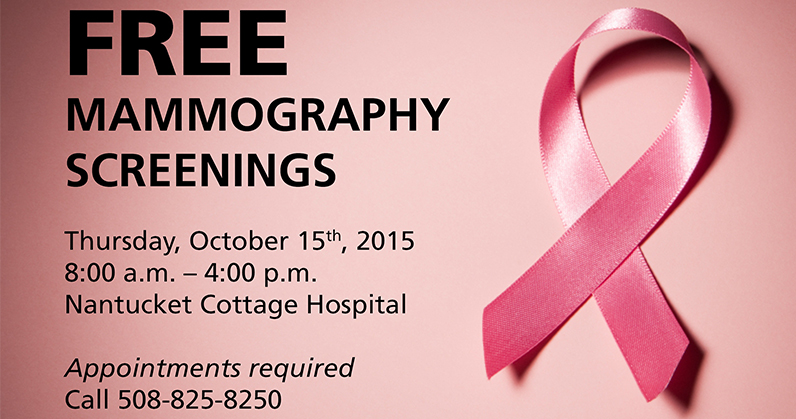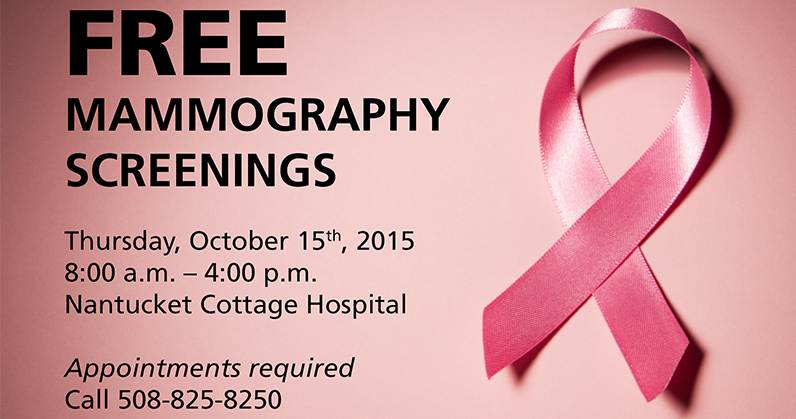 Breast Cancer Awareness Month is observed in October, and Nantucket Cottage Hospital is offering free mammography screenings to uninsured Nantucket women over 40 years old.
Breast cancer is the second leading cause of death among women, and early detection through self examinations and mammography is extremely important. According to the National Breast Cancer Foundation:
One in eight women will be diagnosed with breast cancer in their lifetime.
Breast cancer is the most commonly diagnosed cancer in women.
Each year it is estimated that over 220,000 women in the United States will be diagnosed with breast cancer and more than 40,000 will die.
Availability for this month's free mammography clinic is limited and appointments are required. Please call 508-825-8250 to register. It's also important to note that if you have insurance, annual breast cancer screenings for women over 40 are covered under the Affordable Care Act.
The American Cancer Society recommends:
Women age 40 and older should have a mammogram every year and should continue to do so for as long as they are in good health.
Women in their 20s and 30s should have a clinical breast exam (CBE) as part of a periodic (regular) health exam by a health professional preferably every 3 years. Starting at age 40, women should have a CBE by a health professional every year.
Breast self-exam (BSE) is an option for women starting in their 20s. Women should be told about the benefits and limitations of BSE. Women should report any breast changes to their health professional right away.