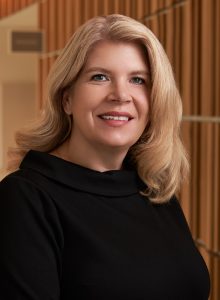 Amy E. Lee, MBA, MBHA, MJ, FACMPE, joined Nantucket Cottage Hospital as President in October 2022. 
She previously served as Chief Operating Officer and Vice President at Central Maine Medical Group/Central Maine Healthcare, where she was recognized for her leadership abilities and strategic vision, as well as her role as a mentor. Prior to her current role, Amy served as Vice President for Primary Care, Medical Specialties, Physician Residency Programs & Patient Contact Center at Carle Foundation Hospital, a 433-bed hospital in Urbana, Illinois.
Amy started her career in the Midwest with the John Deere Health Leadership program where she earned her Six Sigma Black Belt and Lean Certification through enterprise-wide process improvement projects while serving in a variety of positions over her 10 years. When John Deere Health was purchased by United HealthCare, Amy transitioned to UnityPoint Health where she with the business partner for 56 units across three hospitals. Amy then took over responsibility for a joint venture ASC and clinics, partnering with the University of Iowa to bring pediatric gastroenterology to underserved populations in Iowa and Illinois. Like so many of us do in healthcare, Amy served in several roles at Vail Health in Vail, Colorado bringing together hospital and clinic serves over a very broad geographic region.
Amy has a lifelong commitment to learning. She taught classes in the Business Administration program through Colorado Mountain College and for various other opportunities. Amy earned her Master of Jurisprudence [MJ] in Health Law from Loyola University in Chicago. Additionally, she earned both a Master of Business Administration [MBA] and a Master of Health Care Administration [MBHA] from St. Ambrose University in Davenport, Iowa. She received her Bachelor of Arts from Augustana College in Rock Island, Illinois. Amy also holds multiple professional certifications including being a Fellow in the American College of Medical Practice Executives and has been active on numerous boards.
Amy is now a resident of Nantucket where she lives with her husband, Jon. Their daughter Reagan is a college student studying nursing and public policy.