Accreditation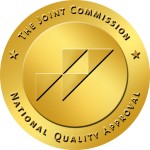 Nantucket Cottage Hospital is fully accredited by The Joint Commission, the non-profit organization that accredits and certifies health care organizations in the United States.
Nantucket Cottage Hospital has demonstrated continuous compliance with The Joint Commission's performance standards and earned the organization's Gold Seal of Approval for Hospital Accreditation, a symbol of quality that reflects the hospital's commitment to providing safe and effective patient care.
The Joint Commission has accredited hospitals for more than 60 years. More than 4,000 general, children's, long-term acute, psychiatric, rehabilitation and specialty hospitals currently maintain accreditation from The Joint Commission, awarded for a three-year period.
---
When you enter the doors of Nantucket Cottage Hospital, you are entering one of the safest community hospitals for patient care in Massachusetts. NCH has recently completed multiple state and independent surveys:
2019: Successful Joint Commission survey of clinical departments and life safety
2019: Successful Massachusetts Department of Public Health survey
2019: Successful Massachusetts Board of Pharmacy voluntary 797 inspection
2019: Successful College of American Pathologists laboratory accreditation
2019: Successful Massachusetts DPH End Stage Renal Disease survey of dialysis unit