8 / 25 / 2023
August 25, 2023 – This morning, at Nantucket Cottage Hospital's 112th Annual Meeting, outstanding individuals and community organizations were recognized for their contributions to Nantucket Cottage Hospital. These annual leadership awards include Marissa Teramae, NCH Ultrasound Technician, as this year's recipient of the Seinfeld/Hartmann Prize for Compassionate Medical Care. The patient who nominated Marissa praised her respect, integrity, empathy, and communications. In one quote from Marissa's nomination, the patient stated, "she showed empathy through her actions and words throughout our time working together. She understood what I was going through, and she made every effort to make it easier for me. She was my absolute rock during that time and made me feel so safe and supported through an extremely anxious time. She made me feel like she actually cared about me and the outcome of my pregnancy, and that felt really good."
Congratulations to Marissa Teramae on this well-deserved honor!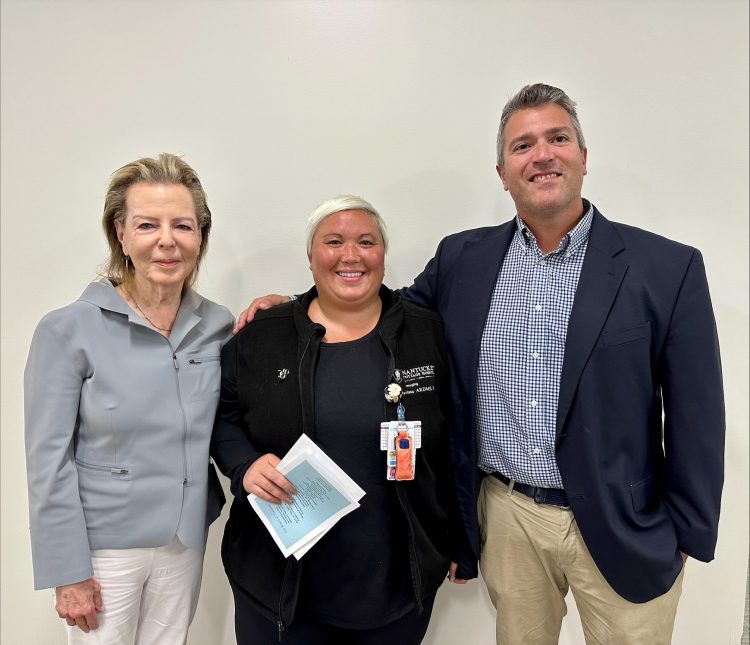 From left: Judy Seinfeld, Marissa Teramae, Jason Graziadei
---
The Sandy Craig Leadership Award was presented to Margaretta Andrews, in recognition of her service to NCH – where she served as both an employee and a member of the Board of Trustees – as well as her work leading the Community Foundation For Nantucket.
The Sandy Craig Leadership Award is given each year in memory of Alexander "Sandy" M. Craig, Jr. to a member of the community who has made a positive contribution to the island through Nantucket Cottage Hospital.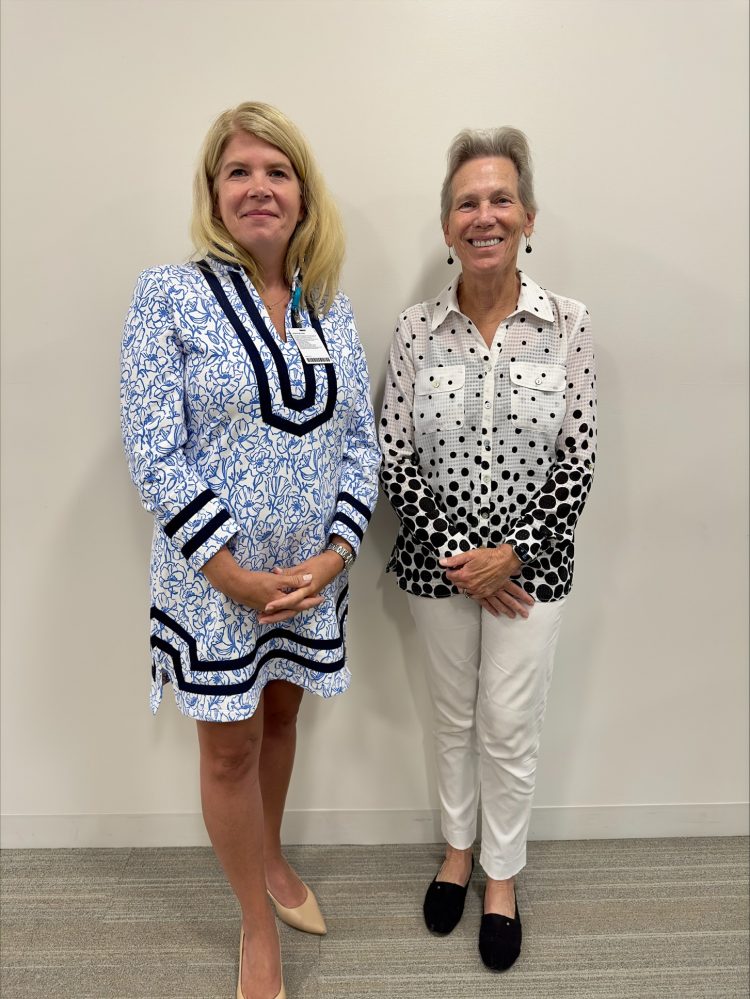 Amy Lee and Margaretta Andrews
---
The Phil Murray Business Award was presented to Fairwinds Counseling Center. The Phil Murray Business Award is given in memory of Philip Chase Murray to a business that has made a positive impact on the island over the past year. Nantucket Cottage Hospital president Amy Lee noted Fairwinds' response to the island's mental health challenges and recent suicides, as well as its partnership with NCH on crisis response.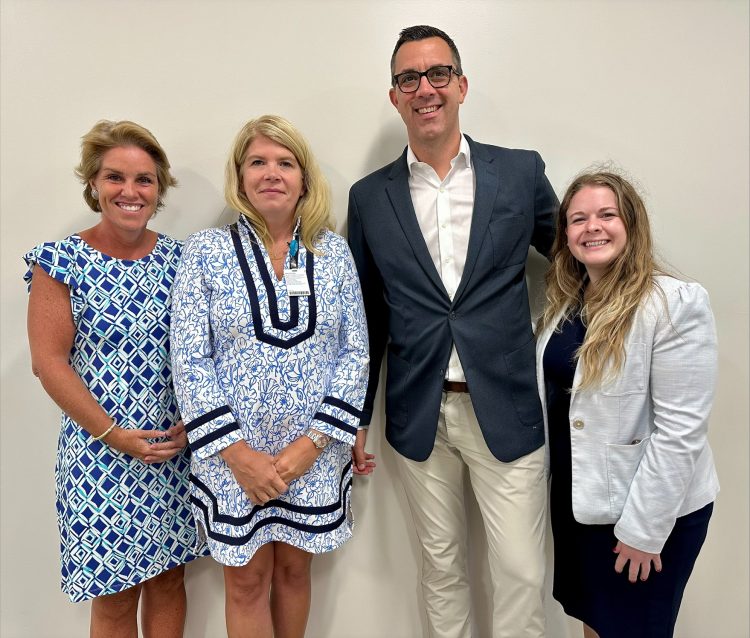 From left: Amanda Wright, Amy Lee, Jason Bridges, Morgan Baker
---
The Bruce A. Percelay Philanthropy Award was presented to Bill Kupper, chair of NCH's Sankaty Swing golf tournament and a former member of the hospital's development and marketing committees. Bill helped spearhead a revitalization of the hospital's golf tournament event.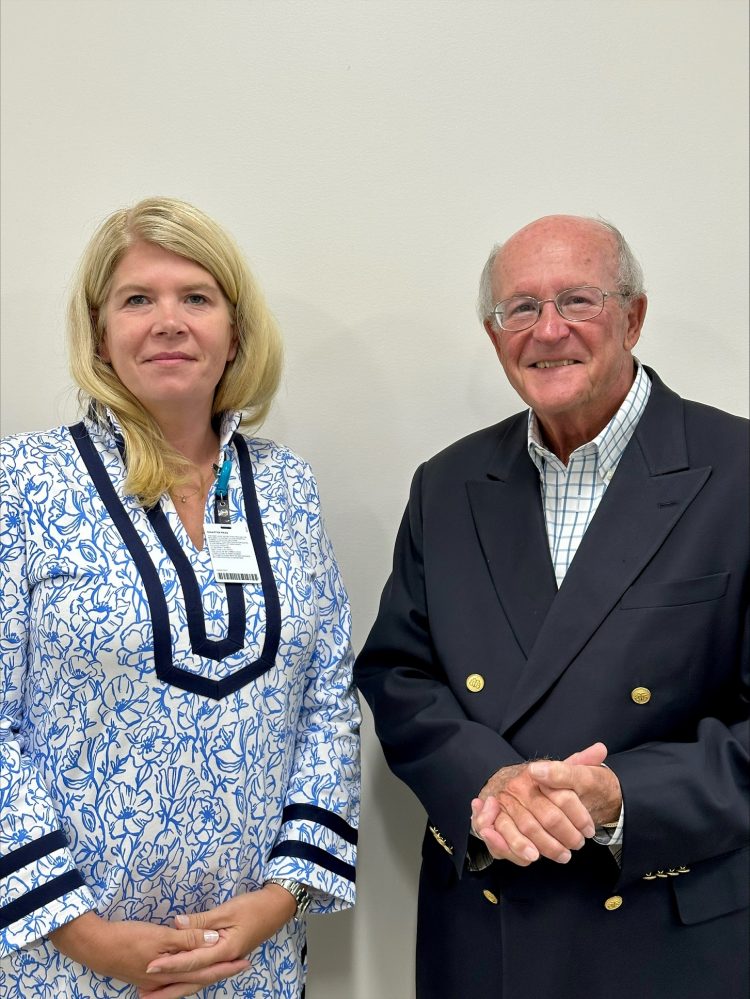 Amy Lee and Bill Kupper
---
The Myrt Eldridge Volunteer of the Year Award was presented to three long-time volunteers: Toby Greenberg, Ann Oliver, and Randy Wight.
8 / 24 / 2023
August 24, 2023 – Nantucket's history is filled with stories of heroic lifesaving efforts made by everyday citizens and those who went above and beyond the call of duty. Honoring that tradition, Egan Maritime Institute and Nantucket Cottage Hospital recognize the following modern-day lifesavers at our annual Lifesavers Recognition Day.
The following will be awarded the Maurice E. Gibbs Commendation Award.
Dr. Faith Frable
David Tearse, Nantucket Lifeguard
Austin Pronovost, Nantucket Lifeguard
Anthony Bellabona, Nantucket Lifeguard
Capt. Frank Hanlon
FF David Angelastro
FF Corey Ray
FF Raymond McClure
Wynter Larrabee
Era Kever
Dr. Faith Frable will receive the Maurice E. Gibbs Commendation Award. Earlier this summer, Frable was driving home on Polpis Road with one of her children in the car when she encountered a man who fell off his bicycle, likely due to a medical event. She quickly started CPR and called 911. All involved agreed that this incident could have had a different outcome if it weren't for Dr. Frable's rapid response and heroic measures.
Nantucket Lifeguards: David Tearse, Austin Pronovost, and Anthony Bellabona, as well as Capt. Frank Hanlon, FF David Angelastro, FF Corey Ray, and FF Raymond McClure will all receive the Maurice E. Gibbs Commendation Award for rescuing a 1-year-old girl at Surfside Beach. A 1-year-old girl underwent anaphylactic shock due to an unknown cashew allergy on Thursday, August 3rd, while at Surfside Beach with her family. Once her mother noticed her face and lips were swollen, she went to the lifeguards for help. They immediately started to calmly walk her up to the parking lot and called an ambulance. "Because of the lifeguards' quick action, as well as the help of the EMTs, our daughter was able to get the treatment she needed for this unfortunate reaction that could have been fatal. We are incredibly grateful to the lifeguards and EMTS for helping save our daughter; we are also so thankful for their calm presence and ability to help manage all our fears, including helping calm and reassure our two older children who were with us," shares Erin Washburn.
The final Maurice E. Gibbs Commendation awards will be presented to Wynter Larrabee and Era Kever for their lifesaving actions on Monday, September 5th. Wynter, a fourteen-year-old surfer, was at Cisco Beach with his family when he noticed a man struggling in the water. He bravely entered the surf, and with the help of his father, Rich brought the unresponsive man to shore. Era Kever was also at Cisco, she rushed to the group and immediately started administering CPR and chest compressions. According to Harbor Master Shelia Lucey, "This was the largest and most on-water significant rescue of the season."
Finally, we will formally recognize USCG Station Brant Point, Nantucket Harbormaster's Office & Lifeguards, and the Nantucket Police Department for their valiant efforts and heroic teamwork while searching for a missing fisherman who went overboard south of Nantucket on Saturday, August 13th. Nantucket's first responders worked well into the night and throughout the day on Sunday, August 14th, to locate a lost fisherman. While the active search was suspended after 24 hours, Nantucket's crews went above and beyond the call of duty during Nantucket's busiest weekend.
Learn more about Nantucket's annual Lifesavers Recognition Day here.