2 / 16 / 2023
(February 16, 2023) Nantucket Cottage Hospital has been recognized as a 2023 Top 100 Rural & Community Hospital for the second consecutive year. Compiled by The Chartis Center for Rural Health, this annual recognition program honors outstanding performance among the nation's rural hospitals based on the results of the Chartis Rural Hospital Performance INDEX™.
Amy Lee, President of Nantucket Cottage Hospital, said, "this designation is truly an achievement to be proud of and it is because of the high-quality, community focused care our team provides to every patient and their families."
Now in its 13th year, the INDEX has established itself as the industry's most comprehensive and objective assessment of rural hospital performance. Leveraging publicly available data, the INDEX is trusted by rural hospitals, health systems with rural affiliates, hospital associations and state offices of rural health across the country to measure and monitor performance across a variety of areas impacting hospital operations and finance.
"Amidst uncertainty, transition and strain, these top performers are excelling in managing risk, achieving higher quality, securing better outcomes, increasing patient satisfaction, and operating at a lower cost than their peers. These groups serve as a benchmark for other rural facilities as they strive to achieve similar results and provide a blueprint for successfully navigating the uncertainty of the new healthcare," said Michael Topchik, National Leader, the Chartis Center for Rural Health. "Across the nation, top 100 rural providers continue to serve as a source of inspiration for hospital leadership teams and staff working diligently every day to improve the delivery of care within their local communities."

2 / 10 / 2023
NCH is pleased to bring back our ACKs of LOVE initiative from February 14 through February 28, 2023 celebrating NCH staff with discounts and giveaways at local businesses. Thanks to the generosity of the NCH Board of Trustees, staff can take advantage of the following perks by showing a hospital-issued ID.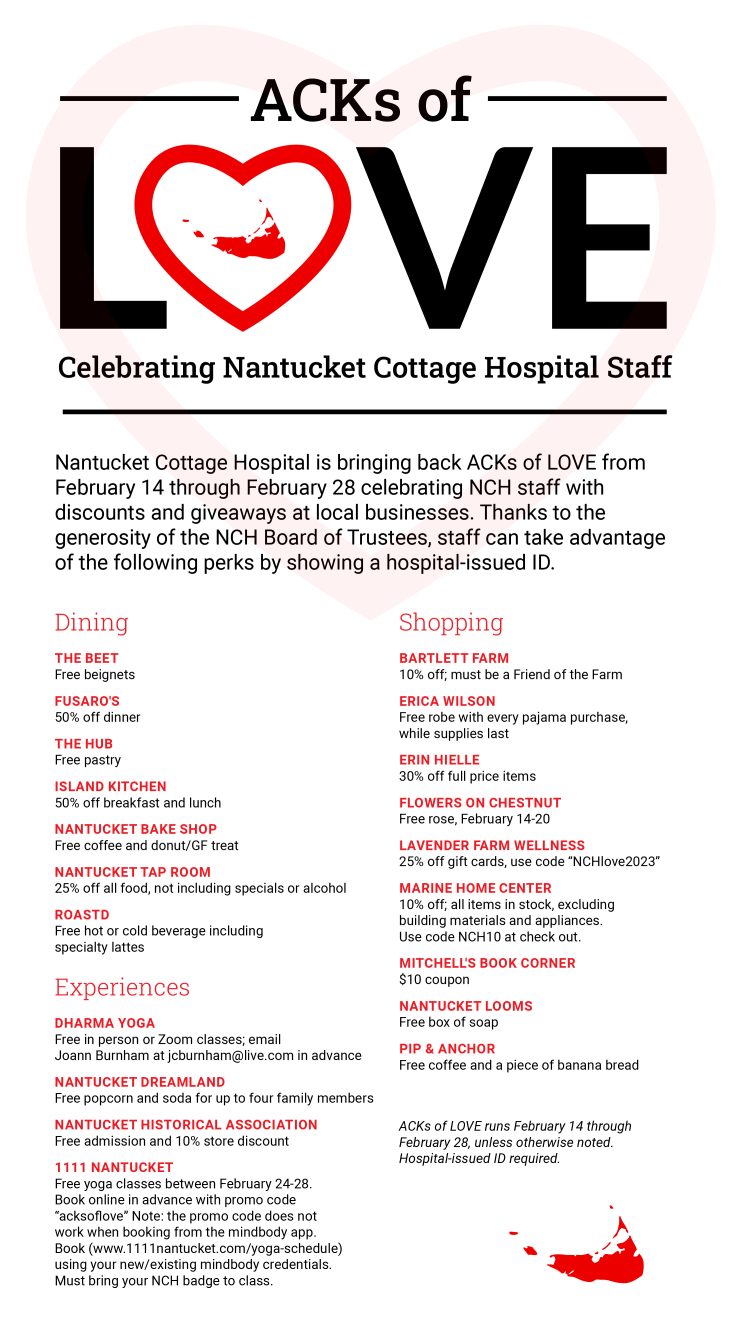 1 / 13 / 2023
January 12, 2023 – Nantucket Cottage Hospital is proud to announce our DAISY Award recipient, Lisa Lacoursiere, RN, who was surprised yesterday with the honor in front of her nursing peers.
The DAISY Foundation award recognizes nurses who provide extraordinarily compassionate care to their patients. Lisa was nominated by one of her infusion patients who wrote, "cancer treatment can be an unnerving and scary experience. From the moment I met Lisa I felt that I was in good hands and would be well taken care of. Lisa uses a no-nonsense approach to care. She is friendly but never retreats from her professional role. She can joke and laugh at appropriate times and is an expert at getting important information across. She explains everything and checks to make sure that she is understood. In addition to being a consummate professional, she is personable, thoughtful, and considerate."
Congratulations to the other nominees at Nantucket Cottage Hospital: Shawne Broderick, RN, Suzanne Carroll, RN, Meghan Corcoran, RN, Sophie Civitarese, RN, Jan Ellsworth, RN, Molly Harding, NP, Erin Higgins-Coulter, RN, Pam James, RN, Charlotte Kassel, RN, Rose Klein, RN, Maria Papale, RN, Melissa Prince, RN and Ruth Tonico, RN.
To submit a nomination for a nurse who treated you or a family member with kindness and compassion, visit here.