4 / 30 / 2022
NCH will open an Urgent Access Clinic on May 23, 2022 in the Anderson Building at 57 Prospect Street to offer easy and convenient medical care for non-life-threatening conditions. 
Beginning May 23, urgent access appointments will be available Monday through Friday, from 7:30 a.m. to 5:30 p.m. and Saturday from 8:00 a.m. to 12:00 p.m. Appointments can be made through Mass General Brigham's Patient Gateway. Log-in to your Patient Gateway account and look for "Find Urgent Care Center" under the "Find Care" menu option to schedule your appointment.
If you cannot make an appointment online, call 508-825-1000 between 8:00 a.m. and 4:30 p.m. Monday through Friday.
Urgent Access appointments are intended for a range of symptoms, including:
Coughs, colds, or sore throat
Ear and eye infections
Fever
Minor injuries (scrapes, cuts, minor burns, sprains)
Muscle/back pain
Rashes
Sexually transmitted infections
Tick bites
Urinary tract infections
Vaginal infections, such as yeast infections
Read more about Urgent Access at Nantucket Cottage Hospital.
4 / 29 / 2022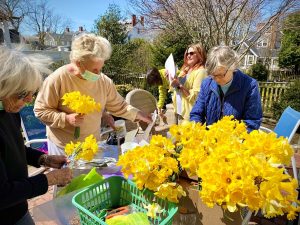 In a manicured garden tucked away off main street, half a dozen volunteers from Palliative & Supportive Care of Nantucket (PASCON) came together to share the colors of spring with those most in need, by preparing bouquets of daffodils for over 40 patients living with serious illnesses throughout Nantucket.
While far from the bedside of patients, the gathering was a moment for these dedicated volunteers to support patients on Nantucket with the level of personal connection and charm that Nantucketers have come to recognize as a key feature of PASCON and the Palliative and Supportive Care Department at Nantucket Cottage Hospital.
"Palliative care is specialized medical care for people impacted by serious illness with the goal of improving quality of life for both the patient and the family," said Debbie Dolan, Nurse Practitioner and Manager of the Palliative and Supportive Care Department at Nantucket Cottage Hospital. "These volunteers are truly the backbone of the program and are the members providing much of the support to the patients, families caregivers and community, this gesture is just another example of that support."
The special occasion marked the first time in over two years that the PASCON volunteers had come together, after being limited to video calls and emails since the early days of the pandemic.
4 / 21 / 2022
At Nantucket Cottage Hospital, over 100 nurses provide high-quality, compassionate care to keep our island healthy. Their skills and expertise are here for you and your family when you need them.