3 / 25 / 2022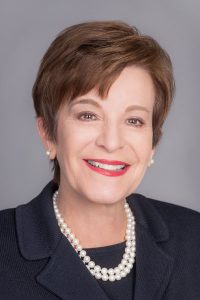 It wasn't long after the pandemic began when it became clear Boston-area hospitals couldn't handle the daily overload of COVID-19 patients – something had to be done. That's when Jeanette Ives Erickson received a call.
"I received a phone call from Peter Slavin, who was the president of Mass General Hospital at the time," said Ives Erickson, "and he began to share with me the vision for Boston Hope."
Dr. Ives Erickson had recently retired from the hospital after more than two decades as its vice president for patient care and chief nurse. But with the country's largest public health crisis in a century looming, she was being asked by the Mass General Brigham healthcare system to become co-medical and operations director of the new 1,000-bed Boston Hope field hospital to treat overflow patients that area hospitals could not accommodate.
"I knew immediately I need to get into the fight. I think we all felt as if we needed to do something," said Ives Erickson, Interim President and CEO of Nantucket Cottage Hospital. "I said, 'I'm in. What do I do now?'"
Ives Erickson and her team quickly hired the people to staff Boston Hope, which was set up at the Boston Convention and Exhibition Center in the Seaport.
"We hired 1,000 employees – people in our community that could have stayed home because their clinics were closed, their businesses were closed," said Ives Erickson. "They came to the Convention Center each and every day."
Over the course of several months, Ives Erickson regularly put in 12-hour days, working with nurses, checking in with patients, and lending her expertise as needed. More than 700 recovering patients and unsheltered homeless individuals were treated at the Boston Hope field hospital.
Then in 2021, Ives Erickson was tapped again, this time to help lead the COVID-19 vaccination site at Mass General Brigham's Assembly Row headquarters.
"At the time, I didn't think I did anything special," said Ives Erickson. "I simply answered the call because that's what we nurses do."
For her efforts at the field hospital, as well as for leading the COVID-19 vaccination site, Ives Erickson was recognized as a Nursing Hero by the Massachusetts chapter of the American Red Cross. The second annual Boston Heroes Breakfast was held virtually on March 23.
"I'm not a hero. Let's start there. I'm not a hero," said Ives Erickson. "Those providing direct care and the patients themselves are the heroes. I was the facilitator."
"As I look back on it, being called upon to help the region get through the pandemic with the Boston Hope field hospital and the COVID-19 vaccination site were among the high
lights of my career," she said. "It is an absolute honor to be recognized this way by such an esteemed organizations as the American Red Cross."
This is the latest recognition of Ives Erickson's work during the pandemic. In 2020, she was named to the Boston Business Journal's Power 50 list of influential leaders "who have met the extraordinary challenges of [the] year head on."
Last year, she was the only nurse recognized among several physicians and CEOs in a Boston Globe article about female trailblazers in health care during the pandemic.