2 / 23 / 2022

(February 16, 2022) – Nantucket Cottage Hospital has recently been recognized as one of America's Top 100 Rural and Community Hospitals by the Charis Center for Rural Health.
"This designation is another affirmation that the work our staff is undertaking here at Nantucket Cottage Hospital is paying off and yielding real results for our patients and the entire island community," said Gary Shaw, President and CEO of Nantucket Cottage Hospital. "Our community can look at this recognition and know that when they step through the doors of NCH, they are receiving the highest quality of care by our team of remarkable clinicians and support staff."
The recognition marks the first time in NCH's history it has been recognized as a Top 100 Rural and Community Hospital. The designation is based on eight metrics, ranging from patient outcomes and quality, to cost and financial efficiency.
"Despite unprecedented adversity rural providers continue to display resiliency and a steadfast commitment to their communities," said Michael Topchik, National Leader, The Chartis Center for Rural Health. "Particularly in light of the extraordinary challenges facing America's rural health safety net."
The U.S. Census Bureau notes that about 60 million, or one in five, Americans live in rural settings, and are served by rural hospitals. Since 2010, over 130 of these rural hospitals have closed due to challenges such as low patient volume and financial efficiency, issues that have led other rural hospitals to reduce service and limit patient care.
"It's been a hard few years for rural hospitals," said Shaw. "Despite the nationwide trend of rural hospitals limiting services, our staff has been able to increase the number of the life changing services offered, here on island, by leveraging our Mass General Brigham affiliation, and attracting a diverse set of new providers and clinicians to Nantucket."
2 / 11 / 2022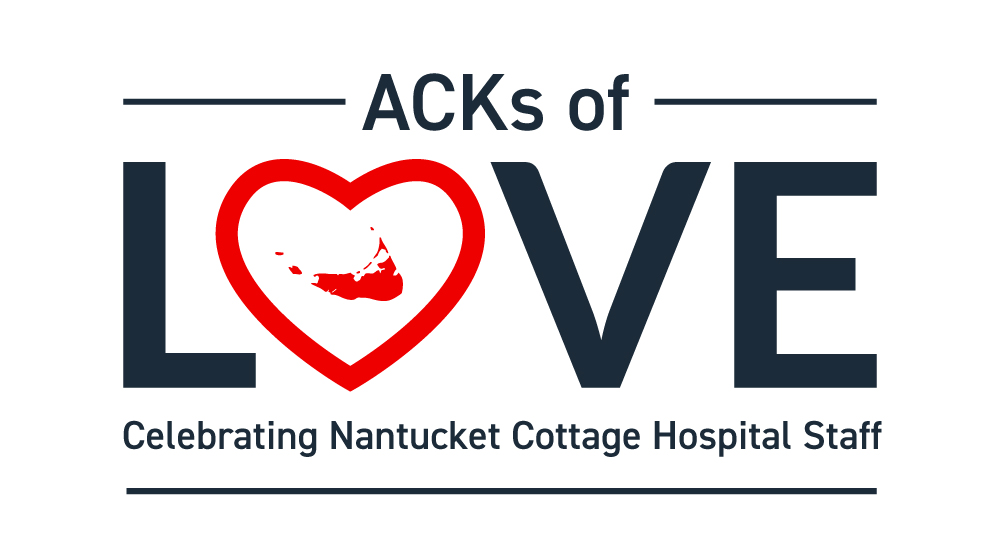 (February 11, 2022) – Nantucket Cottage Hospital is pleased to announce "ACKs of LOVE," a two-week community initiative, starting Monday, February 14th, to recognize the immense sacrifice and dedication of hospital staff throughout the pandemic by local businesses and grateful members of our community.
The initiative, fully funded by a small group of anonymous donors, will feature 18 local businesses offering special deals to hospital staff, ranging from free yoga classes and coffee to steep discounts on clothing and massages.
"There has been an overwhelming sense of support for Nantucket Cottage Hospital from the local community", said Jeanine Borthwick, longtime hospital volunteer and the driving force behind ACKs of LOVE. "We regularly hear and share stories about how well patients and families are treated at Nantucket Cottage Hospital and how grateful everyone is to have this incredible facility filled with top notch professionals. We want to make sure that this gratitude makes its way back to the team at Nantucket Cottage Hospital. This initiative is meant to show our thanks in a tangible way and boost morale for a group of people who have sacrificed so much for our island's health."
Throughout the pandemic, the staff at Nantucket Cottage Hospital has been credited with preforming over 51,000 COVID-19 tests, administering over 21,000 COVID-19 vaccinations, and caring for over 400 COVID-19 patients.
"Nantucketers take care of each other, and this is just another example of the unique generous spirit of our island. We are grateful for our dedicated hospital workers as well as the big-hearted local business partners who are supporting ACKs of LOVE," said Borthwick. "A special thank you to the business owners who are such vital and generous community members – this is Nantucket unity and care at its best," said Cara McCaffrey, a dedicated volunteer who helped to coordinate ACKs of LOVE.
Thank you to the following businesses for participating in ACKs of LOVE.
Staff: please check your work email for details of each offer. 
2 / 4 / 2022
(February 3, 2022) Nantucket Cottage Hospital is pleased to announce that Bruce and Elisabeth Percelay will serve as the event chairs for the 25th Annual Boston Pops on Nantucket set for August 13th, 2022.
As longtime Nantucket homeowners and island supporters, the Percelays will oversee Nantucket's signature event of the summer, featuring the Boston Pops Esplanade Orchestra and a special guest to be announced at a later date, after a two-year hiatus brought by the COVID-19 pandemic.
The annual concert is the largest single fundraiser for Nantucket Cottage Hospital, with all the net proceeds generated during the event staying on Nantucket to sustain the hospital's operations and its year-round commitment to the health and wellbeing of the island community.
"We recognize the critical importance of the POPS concert to the hospital's financial health and we are thrilled to be a part of it," said Bruce Percelay.
The concert will mark the 25th year for the Boston Pops on Nantucket, at Jetties Beach, with general admission ticket sales beginning online this Spring. (more…)