1 / 19 / 2022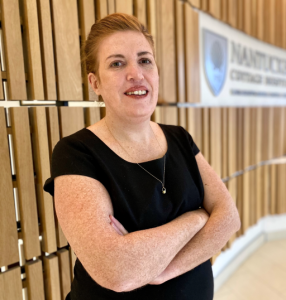 Last week Nantucket Cottage Hospital welcomed Deborah Moss-Gail, Nurse Practitioner, as one of the island's newest family medicine providers at NCH's primary care clinic.
Prior to joining NCH, Deborah was a professor at Temple University College of Public Health's Department of Nursing in Philadelphia, Pennsylvania. She is joined on Nantucket by her husband, Bryant Gail, and their 18-month old daughter Hannah.
"Nantucket is an incredibly special place to our family," said Moss-Gail. "My husband's grandmother lived here for 40 years, so he grew up spending every holiday and summer on the island, now, having the opportunity to practice medicine here and raise our daughter here was an opportunity we couldn't pass up.
As a fluent Spanish speaker, Deborah spent nearly a decade practicing medicine in Federally Qualified Health Centers, providing care to underserved populations in North Philadelphia.
"I've worked in underserved communities where immigration status and language barriers inhibited patients from seeking care and it really presents a unique challenge for both the patients and the providers," said Moss-Gail. "It demands a level of creativity and commitment to the patient, to really understand them and their individual needs, so I'm really looking forward to learning more about our community's health needs."
After years of caring for diverse communities with their own unique barriers to care, Deborah is quick to acknowledge the limits of her own understanding of underserved communities.
"Putting yourself in a position to learn and listen is the best place to start when joining a new community," said Deborah. "Patients need someone that will listen to them, understand them, and value what they care about."
For Deborah, while the longstanding connections to Nantucket were a strong factor for making this island her new home, the potential of working with the diverse array of patients that call Nantucket home was the single greatest factor motivating her.
"That's real primary care, and it's what excites me the most coming here, applying that creativity and willingness to learn, to find treatments and work with patients to find solutions that work best for them," said Deborah.
"Deborah's addition to Nantucket Cottage Hospital comes at a time when we're redesigning primary care here on Nantucket," said Gary Shaw, President and CEO of Nantucket Cottage Hospital. "With Deborah in our clinic, we're able to expand the number of appointments available to the public, reduce wait times and fulfill our commitment to every member of our community, by having a primary care provider uniquely able to understand our diverse community and provide the care best suited for each individual patient."
1 / 18 / 2022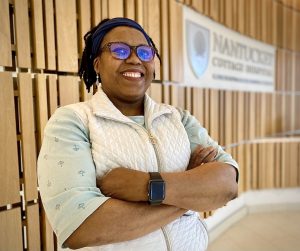 Last week Nantucket Cottage Hospital welcomed Dr. Alexinna Johns as Nantucket's newest year-round primary care doctor.
"When I first came to Nantucket, and met the team, it seemed serendipitous, Nantucket is such an amazing and diverse community, and being given the opportunity to learn about these patients and help navigate their care path is truly a gift," said Dr. Johns.
Born in Sierra Leone, Dr. Johns, migrated to the United States with her family at a young age, nearly four decades ago, before attending the University of California, Riverside, where she graduated with honors followed by medical school at Ross University's School of Medicine.
"I believe my background unintentionally prepared me for this role, growing up and understanding strife and struggle really gives you a wider perspective on the human experience," said Dr. Johns. "My experience helps me understand the patient at a more personal level and allows me to better navigate their care."
As a member of NCH, Dr. Johns will be practicing full spectrum family medicine with obstetrics at NCH's outpatient clinic with an added focus on addiction medicine.
"Coming to Nantucket, I'm most excited about broadening my skills and being able to practice OB and addiction medicine again," said Dr. Johns. "There is something inspiring about being able to walk someone through the journey of whole person healing in the recovery process and working in OB is like being part of a miracle every day."
Prior to joining NCH, Dr. Johns lived in Puyallup, Washington, where she previously practiced family medicine and geriatrics at Western State Hospital. Prior to her practice at Western State Hospital, she spent nine years as a faculty member of the Family Medicine Residency Program at East Pierce Family Medicine.
"The addition of Dr. Johns to our exceptional line-up of island doctors is part of our enduring commitment to delivering the best whole person care possible to our Nantucket community," said Gary Shaw, President and CEO of Nantucket Cottage Hospital. "This addition means that there will be more appointments available to our patients, reducing wait times, while increasing the quality of care that comes with having a provider on-site that specializes in the high-demand field's our community needs, like obstetrics and addiction medicine."
1 / 4 / 2022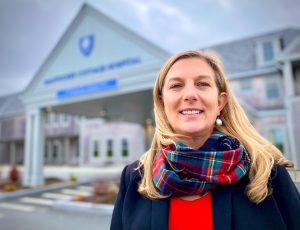 Early last month, Nantucket Cottage Hospital welcomed Dr. Sandra Van Gundy, EdD as our new Vice President of Quality, Risk and Patient Experience.
Hailing from Holderness, New Hampshire, Dr. Van Gundy is no stranger to the challenges faced by island residents, having spent over 30 years as a frequent seasonal visitor of Nantucket.
"I first came to Nantucket in 1988, staying in Tom Nevers, since then I would visit regularly through the 90s, which is when Nantucket really became my happy place, I particularly enjoy its natural beauty and the welcoming warmth of the community," said Van Gundy.
A seasoned Registered Nurse, Van Gundy spent 12 years rotating throughout clinical roles before making the jump to academia where she was an Associate Professor of Nursing with a focus on quality, patient safety, and health at Plymouth State University.
"As an advocate for population health, my work centered on health needs of populations across the world, from Latin America to China, treating both chronic and acute illness and monitoring determinants of health," said Van Gundy.
Despite years in healthcare as a practicing clinician and educator, Van Gundy's most enlightening experience wasn't as a nurse or professor, but rather as a patient, at the receiving end of the care she spent a lifetime practicing.
"As a cancer survivor, I realize being a patient was a gift as a practitioner, because I realized that despite efforts to empathize with the patient, really have no idea what our patients are going through," said Van Gundy. "There was a tremendous empathy gap, caregivers were often challenged to successfully put themselves in their patient shoes and were developing plans of care that were not able to meet patient's individualized needs.
Following recovery, Van Gundy came to the conclusion that her experience was an opportunity to influence healthcare system design so it balances evidence-based decision making with unique needs of patients in order to provide those we serve with a better patient experience.
"There are so many factors that impact a patient's treatment, everyone has dozens of psycho-social factors that need to be taken into account when building a care plan," said Van Gundy. "Caregivers need to know what a patient is going through…family or financial challenges, all these pieces need to be taken into account to maximize that personalized care and ultimately patient success."
As the hospital's leader for quality and patient experience, Van Gundy believes that her experience as both a patient and practitioner has uniquely equipped her to optimize patients' experiences at Nantucket Cottage Hospital, while leading the organization through a pivotal period for healthcare providers across the nation.
"Healthcare leaders have known for a decade that America doesn't have enough doctors to increase access to care nationwide," said Van Gundy. "We can overcome that challenge here on Nantucket by ensuring our nurse practitioners are practicing to the fullest extent of their education, training and license, and help our community understand just how remarkable a resource they are for care."
For Van Gundy, Nantucket offers an opportunity for her to get closer to patients, while addressing many of the pressing healthcare issues impacting the island community.
"Since I first came to Nantucket in 1988, it's grown into such a diverse and unique community," said Van Gundy. "With that comes a wide spectrum of challenges and expectations from our patients, but when you look around this new, state-of-the-art hospital, you realize we're well situated to meet those challenges."