12 / 22 / 2021

(November 2021) When Abby and Bob Alario decided to start a family, they wanted their medical care delivered with compassion, kindness, and a sense of community. After careful planning and consideration, they knew the best place to meet their needs was Nantucket Cottage Hospital.
"We had lots of friends and family members that have had babies in major cities and realized a lot of hospitals treat labor and delivery like a factory line and don't provide dedicated care," said Bob. "We wanted something more, and we are so grateful we chose Nantucket Cottage Hospital."
As it turns out, Abby's delivery was more complicated than anyone expected. After 10 hours in labor, Abby was rushed to the operating room for an emergency c-section, where Jack Sampson Alario was safely delivered. (more…)
12 / 3 / 2021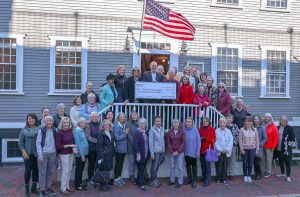 President and CEO of Nantucket Hospital, Gary Shaw, accepts a donation of
$500,000 from the staff and volunteers of the Hospital Thrift Shop 
On November 9th, the Hospital Thrift Shop presented its 2021 gift of $500,000 to Nantucket Cottage Hospital during a ceremony attended by dozens of the volunteers that helped make the donation a reality, outside the shop on India Street.
Since its inception in 1929, the Hospital Thrift Shop and its team of over 100 volunteers have gifted over $6.5 million dollars toward the hospital, providing vital funding for live saving care and equipment, year after year.
"This is something everyone in the community is a part of, whether you donate to the thrift shop, volunteer here or shop here, everyone on Nantucket is able to help give a second life to so many items, while also giving back to our local hospital," said Mary Casey, Executive Director of the Hospital Thrift Shop.
Fully supported through community donations, the Hospital Thrift Shop sells second-hand items ranging from books and glassware, to appliances and clothing from May through October each year.
"Our number one focus is to provide affordable goods to the community, items come in and almost immediately go back out, providing so much for our community," said Casey. "Then at the end of the year, after we've cleared everything out, we have this wonderful bonus where we're able to take what we made and pump it right back into the community through the hospital."
In previous years, donations from the Hospital Thrift Shop have been used for a wide range of equipment and services such as telemedicine platforms, laboratory analyzers and most recently, funding toward a new MRI unit.