10 / 29 / 2021
(October 26, 2021) – This year, Nantucket Cottage Hospital invested 1.1 million dollars to nine local non-profit entities aimed at improving community health concerns as part of its 5-year community health initiative.
This funding was made available by the Massachusetts Department of Health's Determination of Need process regulating community investment as hospital capital improvement projects are approved. As part of the process, hospitals are required to allocate a mandatory 5% of capital improvement funds toward community health projects.
"Nantucket's lack of affordable housing and behavioral health resources have been issues for our community for many years," said Gary Shaw, President and CEO of Nantucket Cottage Hospital. "These kinds of issues require long-term, sustained investments, which is exactly what this investment is about"
Since its inception in 2015, Nantucket Cottage Hospital's community health initiative has provided nearly 4.3 million dollars to local non-profits with goals ranging from increasing access to healthcare, to housing, women and children's health, and most recently, a new collaborative behavioral health initiative.
"Our community has changed in the five years since this program began, COVID-19 has brought to light some of the hidden needs in the community, like food insecurity and behavioral health, both of which are things we can address now and in the future by making strategic grants, many of which we've done through this funding," said Margaretta Andrews, Executive Director of the Community Foundation for Nantucket.
As part of the five-year process, Nantucket Cottage Hospital was able to identify and allocate nearly 4.3 million dollars for projects impacting the communities physical, mental and emotional well-being. Throughout the process, leaders from Nantucket Cottage Hospital worked with the Community Foundation for Nantucket to administer funds to dozens of local community health projects.
"These funds have completely transformed how the community is able to access services," said Sunny Daily, of Nantucket Health Imperatives. "Now we can offer something in addition to what the hospital offers, which means that now there's a place for everyone to access healthcare, now individuals have access to information, support, treatment and care. That leads to us having a healthy community, where people can not only take care of their own lives, but their families, neighbors and whole community."
Each year since the initiative began, the hospital sought project proposals in four major areas: behavioral health; women's and children's health; access to healthcare; and access to housing.
"Our priority at the hospital over this last year has been to significantly expand the community's ability to access high-quality medical care on the island," said Shaw. "Anytime Nantucket Cottage Hospital can work with our local non-profit partners to expand access to care, the community wins."
The 2021 Nantucket Cottage Hospital Community Health Initiative grant recipients include:
Artists Association of Nantucket
Behavioral Health Initiative Fund
Fairwinds
Habitat for Humanity
Health Imperatives
Housing Nantucket
Nantucket Community School
NAMI on Nantucket
Small Friends
10 / 14 / 2021
(October 15, 2021) The annual enrollment and change period for Medicare Part D prescription drug plans is now open and runs through December 7.
To get Medicare prescription drug coverage, you must be enrolled in, or join a plan run by an insurance company or other private company approved by Medicare. Each plan varies in cost and coverage.
Nantucket Cottage Hospital's Social Services Department provides free one-on-one consultations for those Medicare recipients who wish to enroll or review their current prescription plan. Please call 508-825-8196 to make an appointment. Appointments are available through December 7.
Since plans can change yearly, NCH Social Services Manager Sarah Chotkowski advises island residents to look over their plans on an annual basis to ensure it is the best option to meet their needs.
10 / 1 / 2021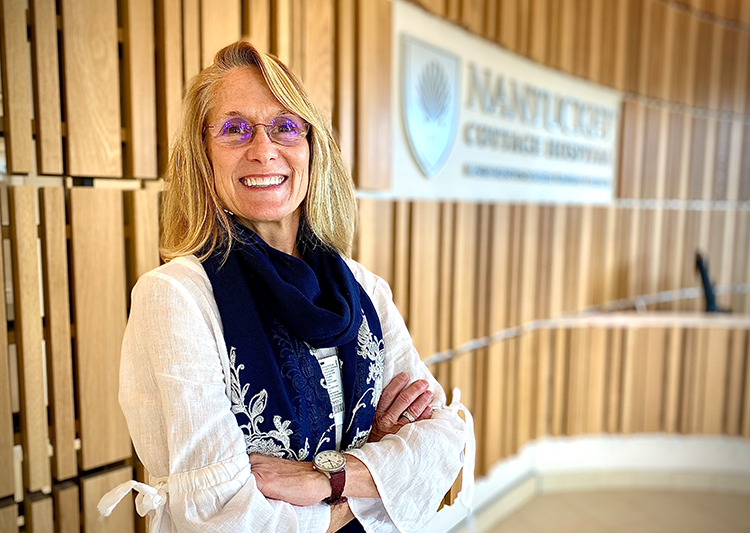 Debbie Dolan thought she had seen it all when after 30 years as a nurse, she was asked to step in to briefly support a hospice program in North Central Pennsylvania.
"I remember being so resistant to the idea of working in hospice, thinking 'oh no I don't want to do that!'" said Dolan. "But the first day I was there, I loved it. It was like being hit over the head and realizing I found what I wanted to do for the rest of my life."
Now, after 15 years working in palliative care and hospice, Dolan has been selected to lead Nantucket's Palliative Care program supported by PASCON, as the program's newest director. As the new director, Dolan will lead a team of health care specialists dedicated to providing physical, psychological and spiritual care to individuals on Nantucket with life-threatening illness as well as their families, at no cost to the patient.
"This position really is a gift. It took me 30 years to find this passion, and now I'm here with an opportunity to give back to the community, to hear people's stories, to protect them, respect them and carry their legacy on. That's an honor," said Dolan.
For Dolan, joining the organization in the wake of a global pandemic has presented a number of opportunities she hopes to capitalize on moving forward.
"We've seen so much of our lives transition to online platforms over this last year, and it's provided us with a new avenue to reach patients and families where they're most comfortable," said Dolan. "We've created virtual cancer support groups, our clinical psychologist holds regular caregiver and bereavement support groups over Zoom and our clinicians have adapted to meeting patients and families virtually."
While advances made in virtual communication have helped facilitate many of the interactions Palliative Care has become known for throughout the pandemic, Dolan believes that the core work of Palliative Care doesn't rely on any one medium, but rather the relationships its staff has been able to build throughout the community.
"Palliative care is about serious illness care. It's about working with a patient, their family and their care team so that they can realize their goals and live the kind of life they're looking for," said Dolan. "So much of that work revolves around face-to-face meetings where a patient lets us into their life and we learn about their values, their hopes and the life they want to live, then having the difficult conversations around how to get our patients where they want to be."
Regardless of the medium, the central role of Palliative Care and PASCON revolves around one major tenet; ensuring patients are able to plan for and live the kind of lives they desire.
"The goal is always to meet people wherever they need us, whether it's in a clinic, here in the hospital or in their home, and figure out how they want to live their lives," said Dolan. "Once we can help a patient answer that, we're on the path to delivering the kind of high-quality, personalized care that everyone in this community deserves."
Funded by the Palliative & Supportive Care of Nantucket Foundation, the Palliative & Support Care Program is operated as a department of the Nantucket Cottage Hospital. To learn more about PASCON or the Palliative & Supportive Care Program and its free services, please visit pascon.org or call (508) 825-8325.