2019 Partners In Excellence Award Winners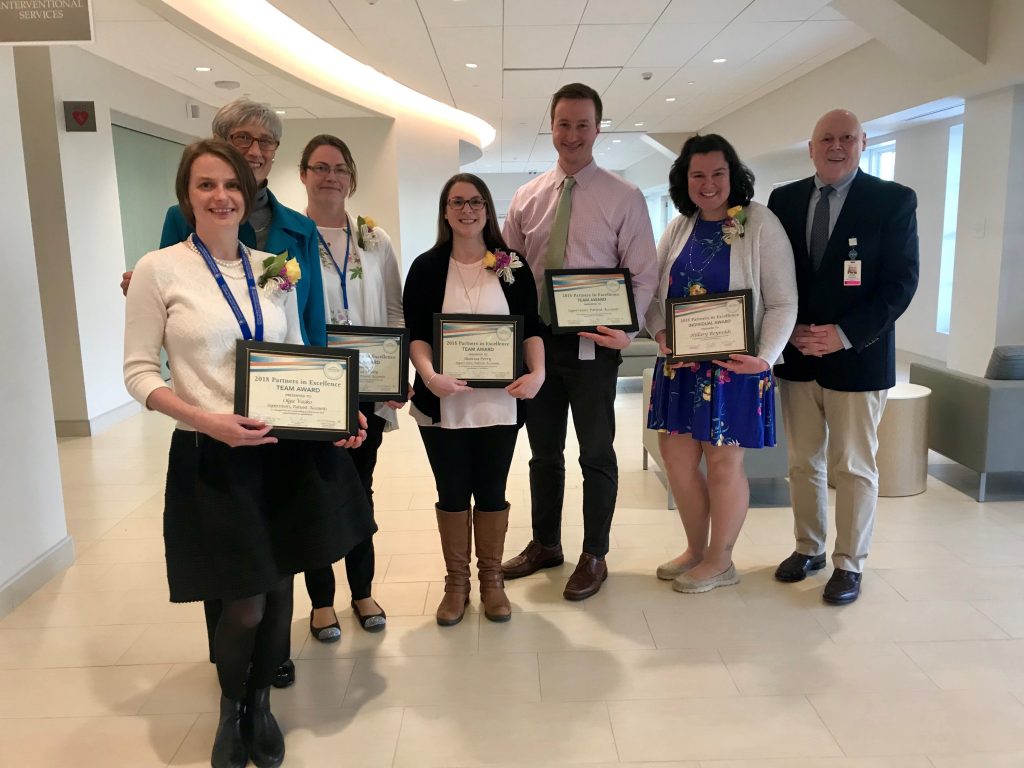 Nantucket Cottage Hospital honored the recipients of the annual Partners in Excellence awards, which recognize superlative performance throughout the Partners HealthCare system, during a ceremony this week in the dining area of the new hospital.
This year's individual award winner is Hillary Polvere Reynolds. The team award went to the Nantucket Cottage Hospital patient accounts supervisors, including Shawna Perry, Patricia Sheehy, Olga Vasko, and team leader Aaron Fishman, Vice President, Finance.
The awards were presented by Steve Taranto, Director of Human Resources at Massachusetts General Hospital, and NCH President and CEO Dr. Margot Hartmann, who read the nominations for the recipients during the award ceremony:
Hillary Polvere Reynolds, Administrative Assistant, Plant Operations
"Hillary has been in an administrative assistant role at Nantucket Cottage Hospital for three years, during this time she has continuously taken on more and more responsibility. As the assistant to the Facilities Director, her scope of work broadened when the Facilities Director added the responsibility of project executive for the new hospital building; Hillary then grew with that role and did the scheduling for all of the complex details that go along with a project of this size. Most recently she has stepped into the (interim) Housing Manager position which was vacated this Spring. Essentially, she has doubled her workload and has done so with the respect and admiration of everyone at NCH. She has done a very successful job filling approximately 40 housing units, along with her other responsibilities mentioned above. I want to say that she has done all of this with the most positive 'can-do' attitude. She does an excellent job of juggling everything, not letting anything slip including her calm and professional demeanor. Hillary is very supportive of her co-workers and does so much to foster a good working relationship at NCH, sharing her strong work ethic in all areas of her job, and in a broader sense with her 'team' at NCH. She is most deserving of this acknowledgment and recognition."
Patient Accounts Supervisors
"This group signifies the true definition of a 'Team.' Each individuals' unique skills have been combined not only to increase efficiency but to solidify routine processes to help fellow NCH co-workers and patients. Each person on this team will go above and beyond to help a co-worker or patient to ensure his/her need or question is addressed in the correct manner. Their knowledge regarding billing procedures, referrals and authorizations has been an asset to many departments at NCH. If a question regarding one of these areas needs addressing the response to the person needing help is always- 'Call Shawna, Olga or Patricia as they will know and help you.' Olga, Shawna and Patricia are the true meaning of a Team at NCH."