106th Nantucket Cottage Hospital Annual Meeting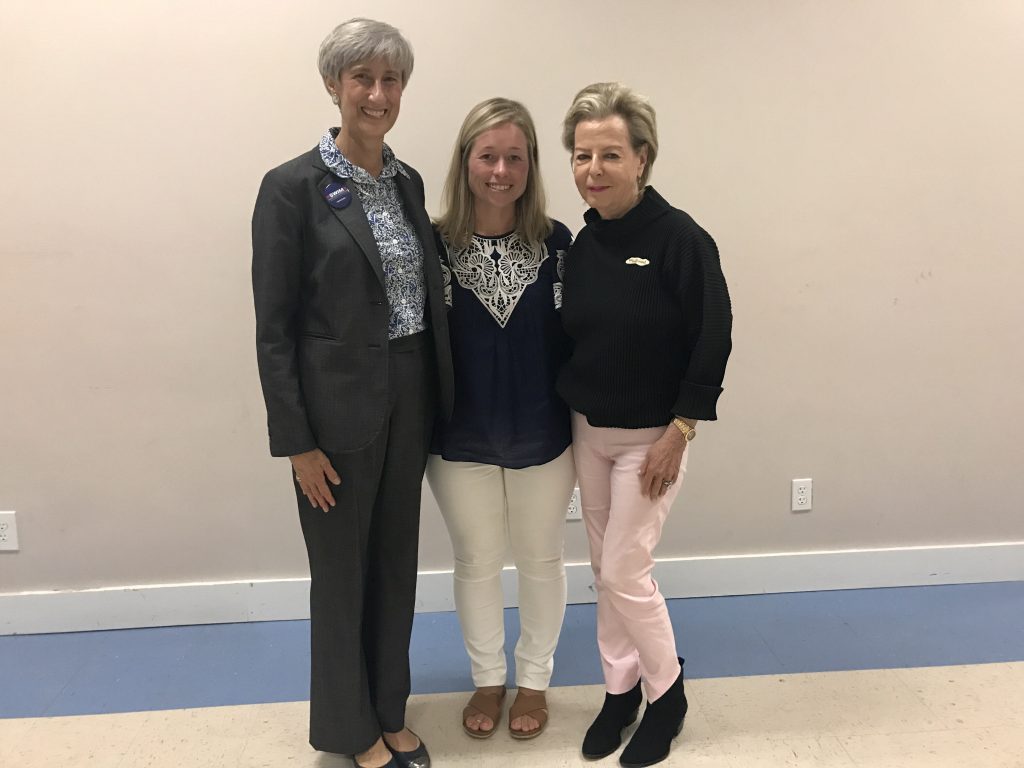 Nantucket Cottage Hospital emergency department nurse Dani Brunelle was named the first recipient of the Seinfeld/Hartmann Prize for Compassionate Medical Care during the hospital's 106th Annual Meeting on Friday.
In recognition that compassionate care is a key hospital goal and a distinct privilege, NCH established this new annual prize in 2017 to honor a staff member for extraordinarily compassionate care. The Seinfeld/Hartmann Prize for Compassionate Medical Care will pay lasting tribute to a physician, nurse or any other hospital staff member who throughout his or her professional career demonstrates an outstanding level of compassion and care in their role at NCH. Dani was nominated by her peers based on the award criteria including: respect; integrity; empathy; communication; altruism; service; excellence; and professionalism.
Friday's Annual Meeting also included the hospital's annual awards, given to community members who have supported the organization in extraordinary ways over the past year. These honors included:
The Myrt Eldridge Volunteer of the Year Award, which is given in memory of Myrtle B. Eldridge to the hospital volunteer who best exemplifies Myrt's spirit of self-less dedication to the betterment of the hospital and commitment to our patients.
This year's Myrt Eldridge Volunteer of the Year Award went to John Stakes. "Whether in practice as one of our visiting neurologists, or on the Board of Trustees offering his time and wisdom, Dr. Stakes is an incredible asset to Nantucket Cottage Hospital who absolutely embodies the spirit of Myrt Eldridge," said Dr. Margot Hartmann, President and CEO of Nantucket Cottage Hospital.
The Phil Murray Business Award is given in memory of Philip Chase Murray to a business that has made a positive contribution to the island through the Nantucket Cottage Hospital. A lifelong friend of the hospital, Phil Murray was Chairman of the Board from 1976-1979 and served as co-chair of the Life Line Campaign with Sandy Through his active participation during a critical time in NCH's history, he demonstrated how the community can support the hospital. This year's Phil Murray Business Award winners include:
Stop & Shop: "Dave Monast and his team at Stop and Shop have been an incredible community partner," Dr. Hartmann said. "Earlier this year Stop & Shop granted us a temporary license to utilize its Craig property as a staging area for the steel and other materials being used to build the new hospital. This contribution is valued at over $1.2 million and was a critical step in moving the project forward. Additionally, Stop and Shop has been there for us many times over the years with in-kind donations of food and supplies for our events and other gatherings."
Pacific National Bank: "In 2016, Michelle Starr and her team at Pacific National Bank graciously allowed us to continue the hospital's tradition of marking the progress of our capital campaign with a hand-painted thermometer on the front of the bank on Main Street," Dr. Hartmann said. "This gave our campaign high visibility in the community at a critical time, and allowed us to publicly link this campaign with those of year's past in a way that resonated with island residents. Michelle recognized this history and made her team available to us at every turn to get our new thermometer installed and prominently displayed."
The Sandy Craig Leadership Award, given in memory of Alexander "Sandy" Craig, Jr., is presented annually by the Board of Trustees to a member or members of the community who have made a positive contribution to the island through the Nantucket Cottage Hospital. Sandy Craig was Chairman of the Board 1957-1976 and 1986-1987. In this role, he oversaw the hospital's move from the West Chester cottages to the current location on Prospect Street and the addition of the new wing. He also co-chaired the very successful Life Line Campaign. Sandy exemplified the spirit of a true friend to the hospital and the community in every way.
Bruce & Elisabeth Percelay are the recipients of this year's Sandy Craig Leadership Award. "It's fitting that an award named for a man who was so instrumental in the building of our current hospital goes to two people who are playing a similar role in building Nantucket's new hospital," Dr. Hartmann said. "These friends of the hospital not only provided leadership with an unprecedented $10 million gift to the campaign, which represents the largest philanthropic gift in island history, but also with all the work they've done our behalf since then. Bruce's on-going leadership of the campaign has been a game-changer for our hospital, both in terms of fundraising but also in addressing our housing challenge with expertise and innovative thinking. Elisabeth has become a valuable member of our Board of Trustees and has also been one of the leaders of our campaign in bringing it over the $100 million mark."