Located at 17 India Street, Nantucket
Open May 13, 2019 – October 18, 2019
Monday – Friday: 10:00 a.m. – 12:30 p.m. and 1:00 p.m. to 3:30 p.m.
Saturday: 10:00 a.m. – 12:30 p.m.
Tuesday & Thursday Evenings (June – September only): 5:30 p.m. – 8:00 p.m.
For large donations and house contents, call (508) 228-1125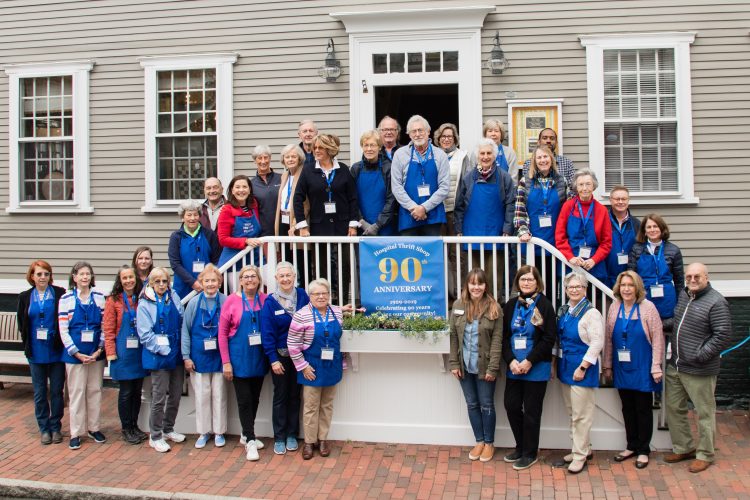 Our Story
The Hospital Thrift Shop sells merchandise donated by island residents and visitors – anything from clothing to furniture to artwork – from May through October, and operates as a separate non-profit organization with a small staff and a team of dedicated volunteers.
The 2018 season marked its 89th year in business on India Street and resulted in a $386,000 annual contribution to Nantucket Cottage Hospital that was used to purchase new medical equipment and other capital items, as well as handmade furniture for the new hospital. An additional $41,610 was contributed to complete the Shop's $500,000 pledge toward the construction of the new hospital. This total gift of $427,610 represented the largest annual contribution in nine decades of steadfast support of the hospital.
History
In 1929, a group of dedicated volunteers came together to provide affordable clothes and household goods to the island community and to generate support for the hospital. The gift from "The Thrifty Shop" that first year was $603. Since then, the Thrift Shop has contributed more than $4 million to the hospital, an incredible legacy of generosity.  It involves everyone: residents who give gently used items, volunteers who manage every aspect of the business, and shoppers who get great deals. Old clothes and furniture are transformed into new radiology and lab equipment, a remodeled dialysis unit or new furnishings for patient rooms.
Items accepted:
Clean, gently used items around your house, including clothing, furniture, decorative items, housewares.
We cannot accept these items:
Items that are broken damaged, dirty, odorous, worn-out, stained, torn, wet, moldy, rusty or frayed do not sell.  Similarly, items that have spent numerous seasons exposed to pet hair, smoke or the elements do not sell. We are forced to haul unsold items to the dump/recycling center, which costs us money and reduces funding to the Nantucket Cottage Hospital.
Air conditioners
Alarm clocks
CD or DVD player
Cell phone/telephones
Computers/typewriters
Dehumidifiers/air purifiers
Game boxes (Xbox, Gameboy, etc.)
Fax machines/printer
Televisions
VCR players or tapes
Electric blankets
Bed mattresses and pillows
Sleeper couches
Some upholstered items (exceptions by inspection)
Standard baby cribs/mattresses
Opened puzzles and games
Baby playpens
Rug remnants or rug pads
Exercise machines
Pet travel containers
Bed frames or bed headboard
Other non-listed items (exceptions by inspection)
Volunteer
Volunteers are always needed for flexible hours and shifts. Contact the Thrift Shop at (508) 228-1125 or email HospitalThriftShop@gmail.com