Our Donors – The Sloseks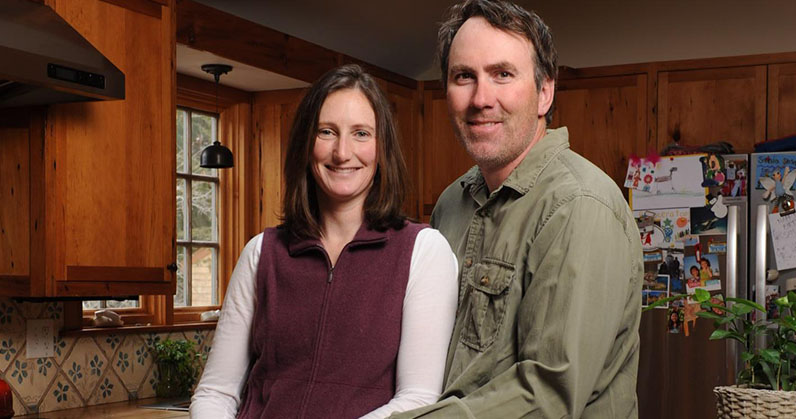 Raising three young children and running a family farm on the island means Sam and Rachael Slosek have become well acquainted with Nantucket Cottage Hospital. From broken bones to a ruptured appendix or a simple stomach flu, the Sloseks have been frequent users of the hospital over the years, and in turn have made it a priority to give back.
"The hospital is a foundation of the community, it's a pillar, and something that we use often," said Sam Slosek. "We want the hospital to be doing well, we want to have physicians available when we need them, we want to have prompt emergency care, and we want our kids to have pediatric care."
For Sam and Rachael, that means more than just making a financial donation to The NCH Fund. The Sloseks have also donated fresh produce to the hospital from Moors End Farm, the 25-acre farm at 40 Polpis Road founded in the mid-1970s by Sam's parents. The NCH food services department welcomes these annual infusions of locally-grown produce into the hospital's daily menu for staff and patients.
"It was a no-brainer," Sam said of donating Moors End Farm produce to the hospital. "We send whatever we have a surplus of or any specialty produce the hospital is looking for. If we can give them some fresh vegetables, it's great and it's good for people."
The Sloseks' three children, Sophia, 7, Ben, 5, and Eli, 1, were all born at Nantucket Cottage Hospital, and have since returned for treatment for a range of typical childhood ailments.
"I'd like to think we're not an accident-prone family but we sort of are," Rachael Slosek said with a laugh. "So we're big users of the hospital, even though we try not to be. We've had a great experience with all three kids."
The family has also experienced medical treatment at facilities on the mainland, and came to realize that the experience is simply different at Nantucket Cottage Hospital, from the small campus setting to the physicians and clinicians who are also members of the island community.
"It's friendlier and much more personal, and when it comes to care, that's huge," Rachael said. "You feel like you have to have confidence in this place because we live in the middle of nowhere, so it's not as if you have options. So wouldn't it be good to go to a place that you like, where you want to be, and where you feel comfortable? More and more, I've felt that way over the years. So that's part of the reason we chose to donate. They've been incredibly helpful to us."
With the hospital embarking on the capital campaign to construct a new building, Sam Slosek sees his family's relationship with NCH only deepening as his children grow and the plans for the new hospital campus come together.
"The start of the new hospital campaign was one of the reasons we donated, and I think going forward we'll continue to donate towards that as it gets more traction," Slosek said. "We feel like the hospital is one of those services that if you can afford to give back to it, you really should because it's important to everyone."