NCH Drive-Through Evaluation Site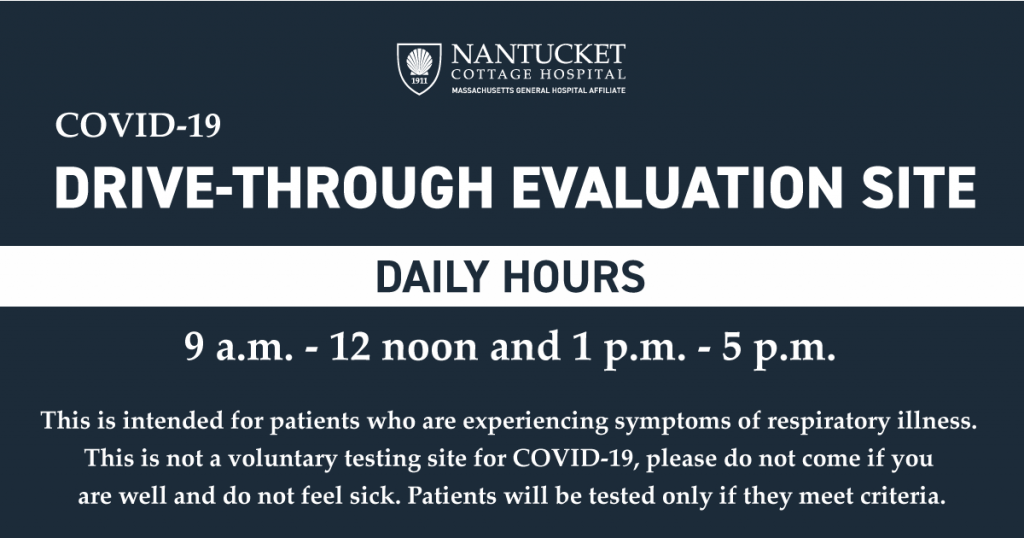 Nantucket Cottage Hospital has opened a drive-through evaluation site at the main entrance of the new hospital for patients who are experiencing symptoms of respiratory illness.
This is not a voluntary testing site. Please do not come and ask to be tested if you do not feel sick.
Patients will be evaluated by NCH staff for respiratory conditions and testing for COVID-19 will only be administered to patients who meet the criteria set by the federal Centers for Disease Control.
Patients who visit the drive-through site at NCH will be screened to determine their symptoms and likely diagnosis. Only those patients who meet the criteria will receive nasal swabs in their car to test for COVID-19 and influenza. Patients will then be given instructions and asked to return home to await follow-up regarding their test results and further instructions. Testing is conducted at the FDA-approved laboratories on the mainland, and weather depending, results can be expected within 48 to 72 hours.
To access this service, please drive in to the hospital property through the Prospect Street entrance and queue up behind any other cars that are waiting. The hours of operation are currently daily from 9 a.m. to 12 p.m., and 1 p.m. to 5 p.m., and are subject to change.
We ask that island residents have patience with hospital staff as we roll out this new evaluation process, and advise that there may be significant wait times to access this service. So, again we ask that only individuals who feel they are experiencing respiratory illness symptoms come to the hospital.