Thrift Shop Completes $500K Pledge For New Hospital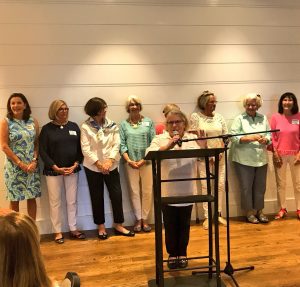 The Hospital Thrift Shop has completed its $500,000 pledge to Nantucket Cottage Hospital's capital campaign for the island's new hospital.
The completion of the pledge was announced by Brenda Williams, president of the Hospital Thrift Shop's Board of Directors, during a recent appreciation dinner hosted by the Nantucket Cottage Hospital Foundation.
In 2014, the Hospital Thrift Shop committed to a pledge of $500,000 to the hospital's capital campaign, to be fulfilled in 2018.  Each year, part of the Thrift Shop's annual donation was set aside to fulfill the pledge with the rest of the money going towards the purchase of medical equipment and capital items.
The new Nantucket Cottage Hospital is currently under construction on Prospect Street, and the hospital is continuing to raise funds for its $120 million capital campaign intended for both the new hospital, and the completion of its campus with additional staff housing.
"Tonight we're celebrating the incredible gift of $500,000 from the Thrift Shop toward our capital campaign for the new hospital," Nantucket Cottage Hospital President and CEO Dr. Margot Hartmann said to the Thrift Shop's staff, Trustees, and volunteers during the recent appreciation dinner. "That is simply amazing, and as we look forward to completing construction and opening the new building, you should all know what a significant contribution you have made toward making it a reality."
The Hospital Thrift Shop sells merchandise donated by island residents and visitors – anything from books to furniture to artwork – from late May through mid-October, and operates as a separate non-profit organization. With a small staff and a stalwart team of dedicated volunteers, The Thrift Shop remains a favorite for island residents and visitors both in terms of donations toward a worthy cause and as a shopping destination. The 2018 season marks its 89th year in business on India Street.