Kelly Facteau, MSPT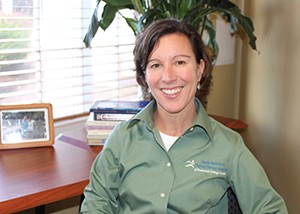 Kelly has managed outpatient therapy clinics for 12 years of her career and is the current manager of Nantucket Cottage Hospital's Sports Medicine & Physical Therapy Associates.
Kelly has worked as a Physical Therapist in a variety of settings, including outpatient, acute rehab, inpatient and home care. Her extensive background provided her with a strong knowledge base to provide care for professional athletes, weekend warriors, and non-athletes in primarily sports medicine and orthopedic outpatient clinics for the past 16 years. Kelly has remained committed to providing the highest quality evidence-based care to her patients through specialty training.
She has advanced training in a number of areas including, sports medicine, orthopedics, women's health/pelvic floor, foot/ankle biomechanics, orthotic prescription, vestibular rehab, functional capacity evaluations, ergonomic consulting, and aquatic therapy. She believes the most fulfilling part of her job is the patient care and mentoring therapists.
Kelly received her Bachelors Degree in Exercise Physiology and her Masters Degree in Physical Therapy. She joined the NCH staff nine years ago. Outside of the clinic, she enjoys spending time with her husband and their dog. She can often be found running, boating, and paddle boarding.