David Goodman, Grateful Patient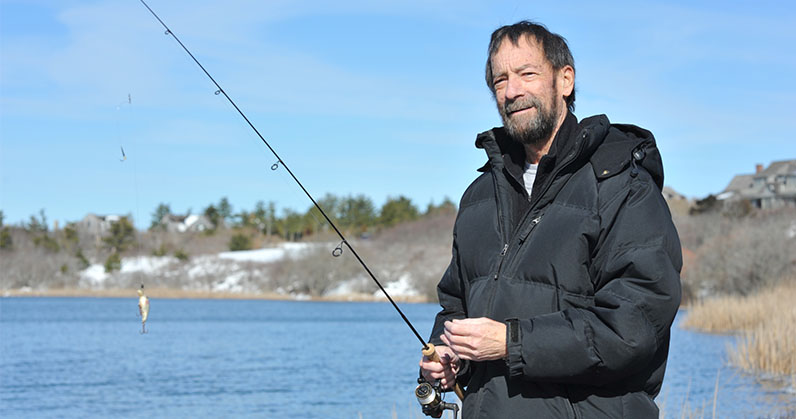 Few people are better acquainted with Nantucket Cottage Hospital from a patient's perspective than island tile-layer and fisherman David Goodman.
Over his many years on the island, Goodman has been a patient in the Emergency Department after a cerebral hemorrhage. He's stayed for a week on the inpatient floor suffering from liver disease. And he's utilized the hospital's outpatient rehabilitation services frequently for his recoveries, as well as countless visits to Dr. Tim Lepore's primary care office.
"I got better care here than I would have got anywhere," Goodman said. "I had incredible attention. It's a real personal touch being here, and what I mean by that is the nurses and doctors went out of their way to take care of me. It was beyond 'I'm just doing my job.' and that was a big thing for me."Due to his chronic medical conditions, including Hepatitis C, Goodman has experienced a number of hospitals over the years, including a few stays at Massachusetts General Hospital in Boston.
"MGH is a world-famous hospital and they were incredible, but it was no better care than I got here on Nantucket," he said. "It's small and they focus on you, but I also never felt like they were lacking in experience."
After recovering from liver transplant surgery and returning to his life and work on Nantucket, Goodman has made it a point to regularly give back to Nantucket Cottage Hospital in recognition of the care he has received. His gifts to the The NCH Fund, the hospital's annual fund, as well as the capital campaign for the new hospital, are meaningful contributions to the health and wellbeing of Nantucket residents. While they may not have been the largest gifts received by Nantucket Cottage Hospital, they are representative of the strong relationship between the hospital and the island community, and truly help sustain the year-round services available at NCH.
"When I work for people, it's nice to get a check for my work, but it's even nicer if they say 'thank you' or give you some small something – not money – a box of candy or whatever it is," Goodman said. "So for me, while my health insurance paid for my stay, it's nice to give back to show it meant something more to me. There's more to it than just dollars and cents. Maybe I wouldn't be alive today if they hadn't taken care of me as well as they did."