Planning for the New Hospital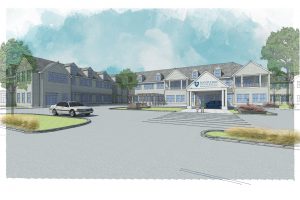 Since April 2015 when the Town of Nantucket approved the parameters of our site, we have collaborated with architects, engineers and construction professionals to design the new facility, in concert with working groups of community members and staff focused on the patient and visitor experience, and our clinical programs.
The new building will be roughly 106,000 square feet. Unlike our current configurations, the hospital will be designed to maximize privacy, safety, and efficiency in the way health care is delivered today, which will allow us to increase our capacity and provide more streamlined care.
The new facility will be located in the space immediately behind the current building, which will be taken down after the new hospital opens. We have worked with our design teams to create an exterior that balances the island's architectural heritage and sensibility with the modern health care services inside the walls.
Vision Statement
The new hospital will produce a positive impact on the patient and visitor experience of care, and support delivery of personalized, cost-effective and high quality care through a design for adaptive use, patient safety and integrated care.
Guiding Principles
Innovation in how we organize and deliver care will be valued to promote quality, safety and the patient experience.
Our design will optimize future flexibility and the adaptive use of our physical assets to enable us to respond to and support changing clinical practice.
The patient experience will be enhanced by the physical layout and finish of patient services areas, including accommodation and support for family and social network participation in the patient care process.
The efficient delivery of care for each individual will enhance the patient and visitor experience of compassion, competence, and effectiveness.
Technology will be embraced to improve patient centered, compassionate care, meeting the highest standards in clinical outcomes including enhanced communication among clinicians and with the patient to further advance the patient experience.
Design Principles
Design shall promote the materials, proportions and scale of Nantucket architecture, while reflecting the state of the art care provided inside.
Design will reflect economic sensibilities without compromising the quality of patient care.
Design shall allow for expandability and multiple uses of all physical assets.
Design will incorporate sustainability and resilience for a building that will stand for decades.
Key Facts
Planned to be about 106,000 square feet, the new hospital will be built on the existing property at 57 Prospect Street.
The new hospital will be funded solely through private donations. No taxpayer funds have been allocated for the project.
Clinical space for ambulatory specialties and primary care will be increased, allowing greater capacity to expand specialty offerings.
Unified primary care, walk-in care, and specialty clinic space will increase patient access to our providers.
A Patient & Visitor Experience Task Force, made up of members of the public, is providing valuable input from the community in the design process.
During construction, the hospital will remain fully open, and MedFlights will depart from Nantucket Memorial Airport. The new hospital will feature a helipad adjacent to the Emergency Department.
In April 2015, Town Meeting voters approved a building height of up to 50 feet.
Preliminary Timeline
Fall 2016: Schematic design phase
Early 2016: Submit plans for state and local permitting processes
Mid 2016: Complete final designs
Fall 2016: Raise 90% of funds needed for building costs through private donations
Mid-2017: With approvals in-hand, construction begins
November 2018: Construction completed, followed by occupancy of new building
Our partners in development of this project include:
Halsa Advisors, a strategy, facilities and operations advisory firm focused on the healthcare industry, offering strategic and operationally driven facility planning services. For Nantucket Cottage Hospital, Halsa has devised a master facility plan involving a review of our strategic plan and business objectives, existing facilities and site assessment/operational analysis, resolving facility gaps and designing flexible space for potential expansion of services.
Cannon Design, the third largest healthcare planning and design firm in North America. Internationally recognized for design excellence and technological innovation, it brings architecture, interior design and engineering together in a single organization. For Nantucket Cottage Hospital, Cannon is designing a facility that aligns with seasonal population fluctuations and the community's healthcare needs, now and in the future.
Suffolk Construction provides preconstruction, construction management, design-build and general contracting services to clients in the healthcare, science and technology, education, federal government, and commercial sectors. Approximately 60% of Suffolk's work comes from the healthcare sector, including more than 500 projects completed in the past five years, including both large and small hospitals and healthcare projects. Suffolk's project teams provide clients comprehensive planning, innovative solutions and technologies, and proven processes to deliver complex construction projects on schedule and on budget, with minimal risk.
Massachusetts General Hospital is supporting NCH's efforts by providing expertise and partnership in facilities and construction planning, financial modelling, and operational analysis.