Floor Plan: Level 1
The ground floor of our new hospital is the home for most of our 24/7 medical services, including the Emergency Department and inpatient beds, as well as our specialty physician clinics and primary care practices. It is a welcoming space that accentuates natural light, provides enhanced privacy and safety, and easy access to our services.
An expanded Emergency Department makes us crisis-ready, while co-locating it adjacent to the inpatient beds creates flexibility and efficiency to better utilize our staff and clinicians.
Bringing many of our primary care and specialty physicians together under one roof encourages teamwork among the medical staff, and allows them to work together in a collaborative setting to improve patient care.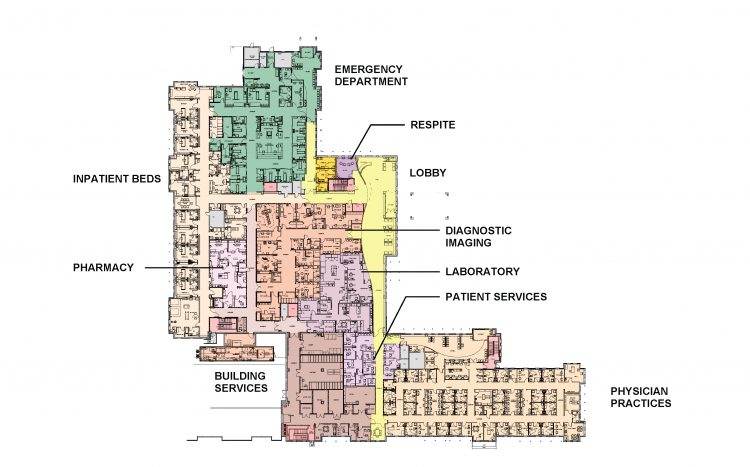 ---
Floor Plan: Level 2
The second floor of our new hospital is the home of a modern interventional suite that includes two operating rooms, one of which will be dedicated for C-sections, as well as a procedure room for endoscopies.
Upgraded and expanded areas for infusion, including chemotherapy treatment and dialysis, improve privacy and comfort for our patients. Our cardiac rehabilitation patients also benefit from an expanded program area on this floor.
The privacy and safety of patients will be greatly enhanced in the new hospital, with clearly designated public spaces versus clinical areas accessible only to patients and staff.